Magazine
NOVEMBER 28 & DECEMBER 5, 2016
(Subscribers can read the full magazine online.)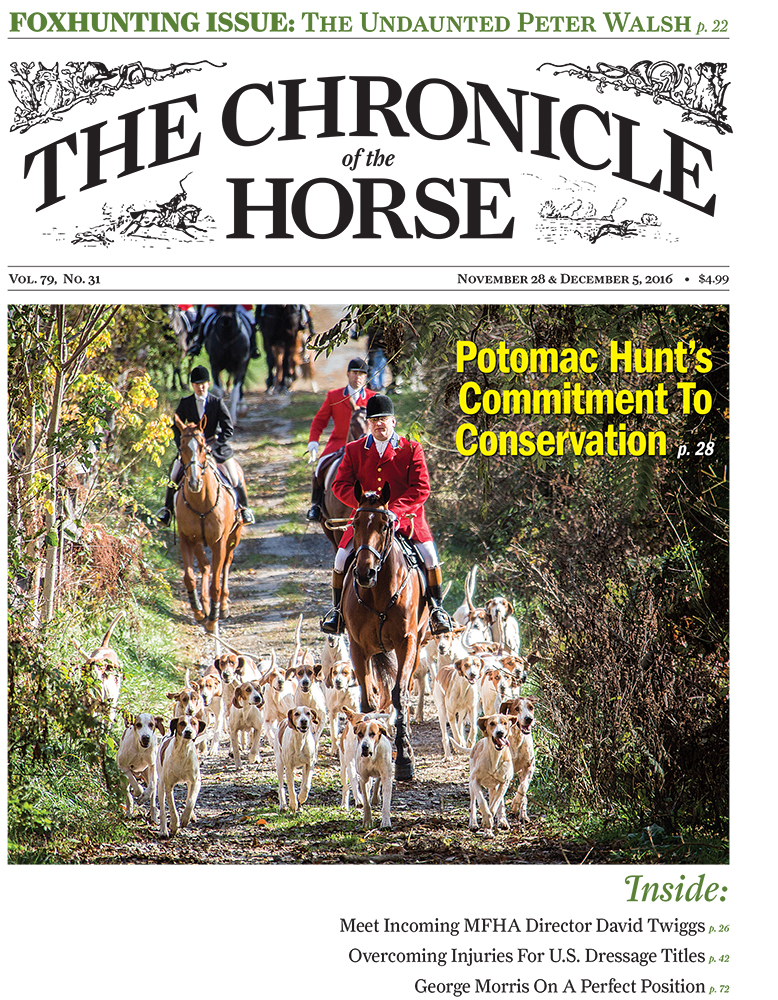 INSIDE: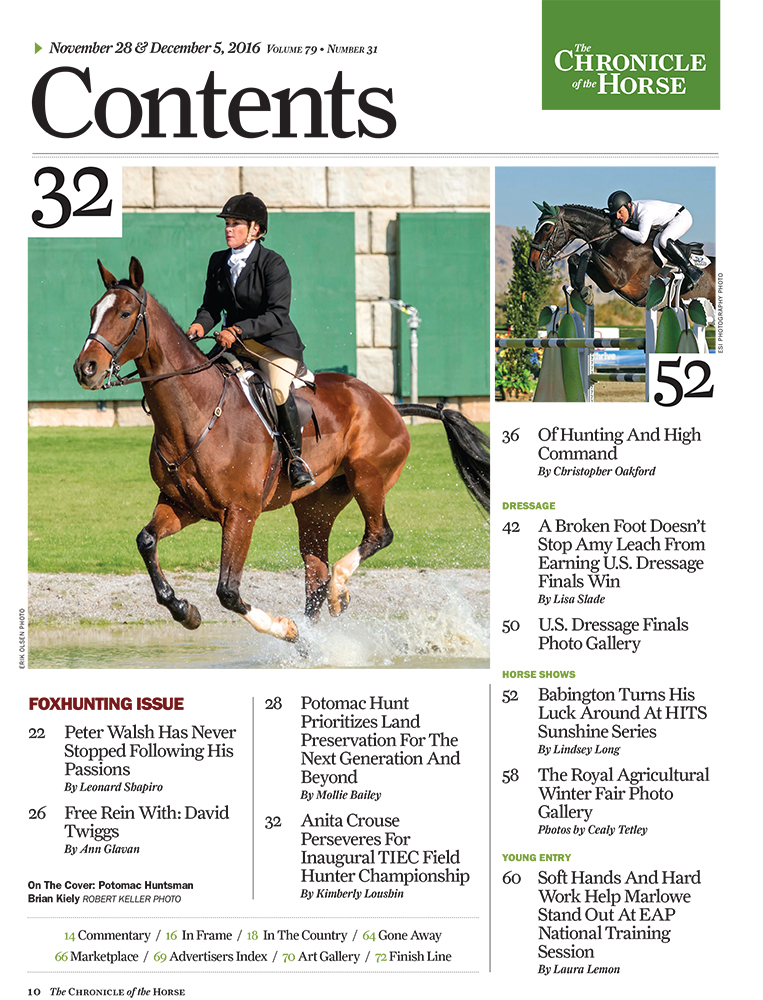 * Peter Walsh Has Never Stopped Following His Passions
As he lay in a hospital bed for nearly three months and slowly began to regain his senses following a catastrophic riding accident, Peter Walsh survived many agonizing days and nights of pain and anxiety by focusing on foxhunting, the pursuit that had very nearly killed him.
* Free Rein With: David Twiggs
Few people are more dedicated to promoting adventure sports and the great outdoors than David Twiggs. It's part of his profession, it's his personal passion, and soon he'll get to use his considerable experience in the area to lead the Masters of Foxhounds Association.
* Potomac Hunt Prioritizes Land Preservation For The Next Generation And Beyond
Efforts to secure open space earn the 2016 MFHA Foundation Hunting Habitat Conservation Award.
* Anita Crouse Perseveres For Inaugural TIEC Field Hunter Championship
As Anita Crouse looked over the horses available at a small farm in Germany, a 5-year-old bay gelding with a white blaze and snip caught her eye. The trainer came over to ask which one she'd selected, and when she indicated the bay he said, "You don't want to see that one."
* Of Hunting And High Command
Whether testing an officer's skills or providing a break from battles, horses and hounds were an integral part of military life for centuries.
* A Broken Foot Doesn't Stop Amy Leach From Earning U.S. Dressage Finals Win
Leach had plenty to smile about. Though the broken foot was the biggest drama of the week in Kentucky, it was nothing compared to what she'd been through with Radcliffe over the past year.
* U.S. Dressage Finals Photo Gallery
* Babington Turns His Luck Around At HITS Sunshine Series
Irish rider Kevin Babington had fresh horses for the two-week National Sunshine Series at HITS Desert Horse Park in Thermal, Calif., and it showed.
* Soft Hands And Hard Work Help Gracie Marlowe Stand Out At EAP National Training Session
The dedication in the barn and adaptability in catch riding required for a successful EAP training session weren't foreign to the 20-year-old.
Plus: Commentary, In The Frame, In The Country, Gone Away, Art Gallery, Finish Line, results, photos and much, much more.
November/December Untacked
(Subscribers can read the full magazine online.)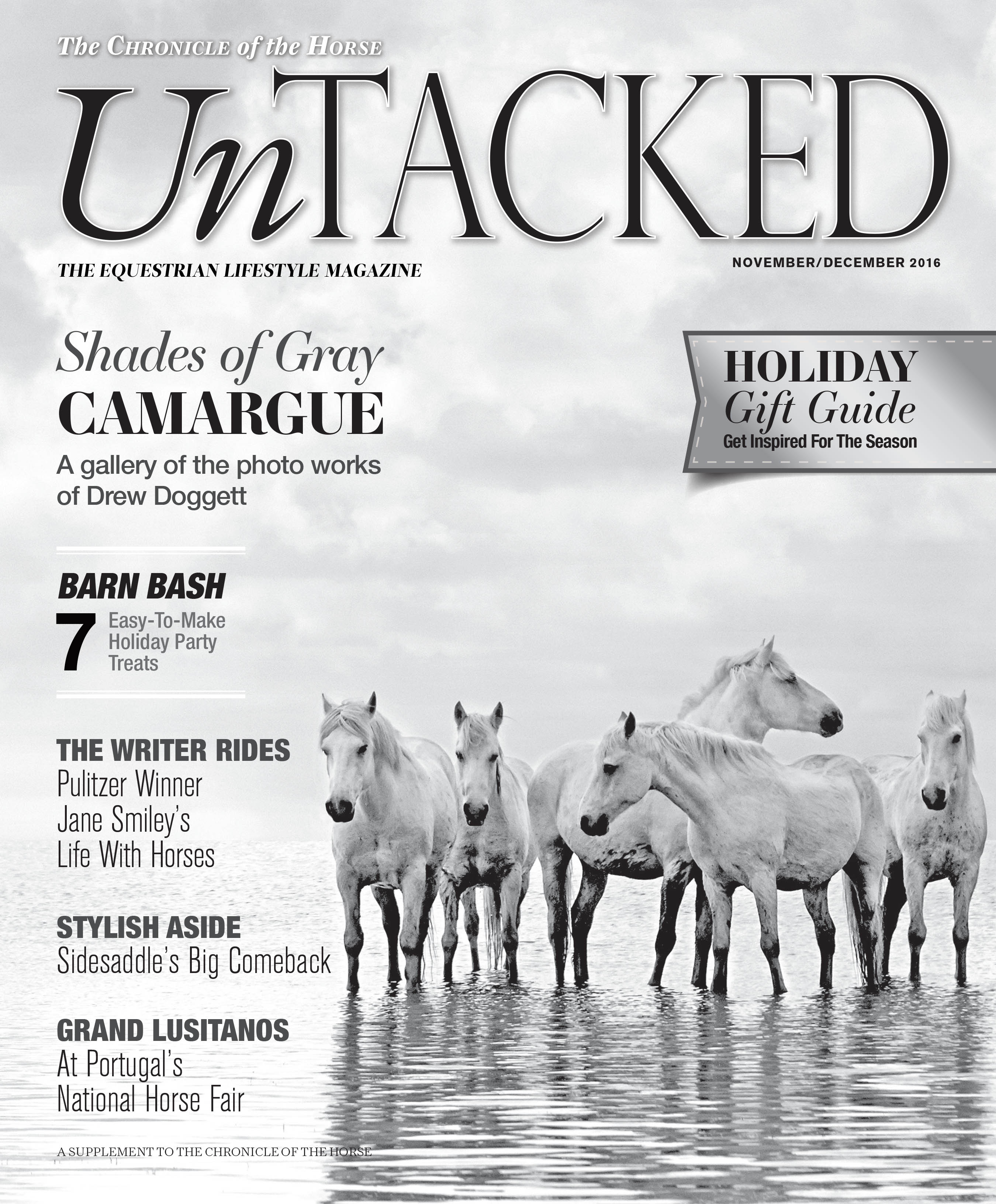 INSIDE:
Get ready to go places this winter with the November/December issue of Untacked. In our cover story, photographer Drew Doggett spirits you off to France's otherworldly Camargue region, where the famed free-roaming "white horses of Camargue" gallop through the marshes.
Photographer Bianca McCarty, meanwhile, explores the cobbled streets of the Portuguese village that turns itself over to Iberian horses and horsemen every November for an exotic and colorful national horse fair, which is about business as much as pleasure.
If winter's chill brings you down, check out the Sporthorse Cruise, which combines a tropical escape with equestrian education in the form of onboard seminars about everything from conformation to course design.
Need some holiday gift-giving inspiration for the equestrians in your life? We've got you covered—from the ultra-practical to the glamorous—with our Holiday Gift Guide.
You'll also meet a new generation of sidesaddle riders who are promoting a resurgence of (and new respect for) this elegant, old-school riding style; Pulitzer-winning author Jane Smiley, who was a rider before she became a writer; artist Lisa Marie Bishop, an accomplished rider who hasn't let an eye disease keep her out of the saddle; and you'll gain a new perspective on "peak fitness" from Sarah Hansel.
There's even more inside the November/December issue of Untacked, at the intersection of equestrian life and style.
Plus: Editor's Letter, Editor's Picks, Tech Spotlight, Clothes Horse, Test Lab, Film Review, Feed Room, Parting Ways, Around The Arena, Charity Spotlight and much, much more!
Magazine Writers Guidelines | Guidelines for Results | Guidelines for Art Gallery