Magazine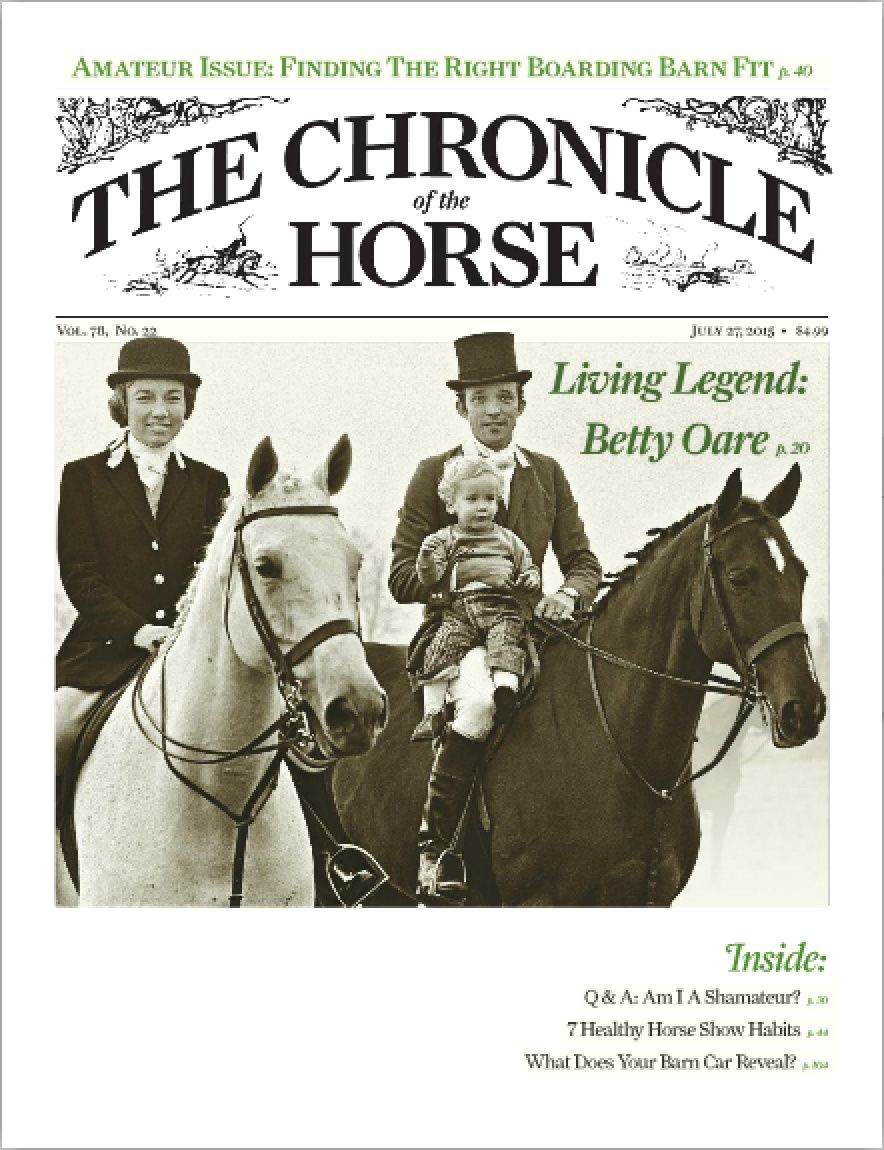 The July 27 issue of The Chronicle of the Horse is the Amateur Issue and includes...
Commentary by Molly Sorge—Betty Oare Is A Simple Person Living An Extraordinary Life
Sure, Betty Oare is featured in our Living Legend series, but when you see her at shows, just just another smiling face at the ring. Despite the remarkable life she's led, Betty is a down-to-earth, friendly rider with a kind word for everyone. (Subscribers can read more.)
In The Country
Second Annual Rolex Central Park Horse Show Dates Announced; FEI Provisionally Suspends Steve Guerdat For Prohibitied Substances; Deeridge Farm To Host Wellington World Cup Qualifier; Boyd Martin Has New Three-Star Ride; Top British Horse Hello Sanctos Won't Jump At European Championships; Totilas Returns Triumphant At Hagen; Veterinarians Seek Survey Respondents For Study On Horse Collapse And Sudden Death; NCAA Continues Support Of College Equestrian; USDF Announces New Rider Awards For 2016; USEF Announces Fall Eventing Competition Grant Recipients. (Subscribers can read more.)
Living Legend: Betty Oare
Whether judging, foxhunting, showing, governing or breeding, this amateur rider has woven herself into the fabric of the horse world. (Subscribers can read more.)
Horse Care: Functional Electrical Stimulation Gets Muscles Moving

This therapy targets everything from performane enhancement to pain management in the equine athlete. (Subscribers can read more.)
Amateur Status: Do I Qualify?
Are you an amateur if... you're a "brand ambassador"... if you're a working student... if you hack sales horses... We answer the "are you an amateur" question for a variety of situations. (Subscribers can read more.)
Understanding The Adult Amateur Brain
A hilarious primer for trainers who want to understand and appreciate their less adept students. (Subscribers can read more.)
Boarding Barns: The Good, The Bad And The Dramatic
What do you need to think about when on the hunt for a boarding barn that will be a good match for you adn your horse? We look at a few important things to consider. (Subscribers can read more.)
Staying Fit Between Rounds
Dietician and amateur rider Kimberly Maloomian shares her tips on how to keep your own girth size from going up at shows. (Subscribers can read more.)
HH Azur Continues To Amaze At Spruce Meadows
U.S. riders dominate the headliner classes of the last two weeks of the Canadian summer series, as McLain Ward's new mare checks off another one off her to-do list. What makes HH Azur so special? We asked McLain. (Subscribers can read more.)
Binkie Bows Them Away At Tryon
David Blake's decisions add up to a win in the $127,000 Adequan Grand Prix CSI***. (Subscribers can read more.)
Dobra De Porceyo Doubles Down In Tryon
With Schuyler Riley up, the chestnut mare scores back-to-back grand prix wins. We talked to not only Riley about the mare, but also her groom, Jesus Pimentel. (Subscribers can read more.)
Kennedy Is Golden At USHJA Children's And Adult Amateur Jumper South Regional Championships
The Maryland teen saddles up Ontario for two gold medals. (Subscribers can read more.)
Heineking Scores Again At Summer In The Rockies V
AJE Cluny earns his second grand prix blue in a row in Colorado. (Subscribers can read more.)
Waxman Shakes Off The Rust For A Hometown Win In Cleveland
The former top junior rider gets back in the ring at Chagrin Valley with a new job, a fresh perspective and her old horses. (Subscribers can read more.)
Chapot Repeats History At Lake Placid
With ISHD Dual Star, she celebrates the 50th anniversary of her mother's first U.S. grand prix win with a blue ribbon of her own. (Subscribers can read more.)
Papyrus Exceeds Expectations At Country Classic
Though he was only entered to gain experience, the young horse tops the class with junior Baily Smith in the irons. (Subscribers can read more.)
Colvin Tops All At U.S. Junior Hunter National Championships—East Coast
Hunterdon Cup, grand champion and reserve, and that's a wrap for this teenage wunderkind's final appearance at this event. (Subscribers can read more.)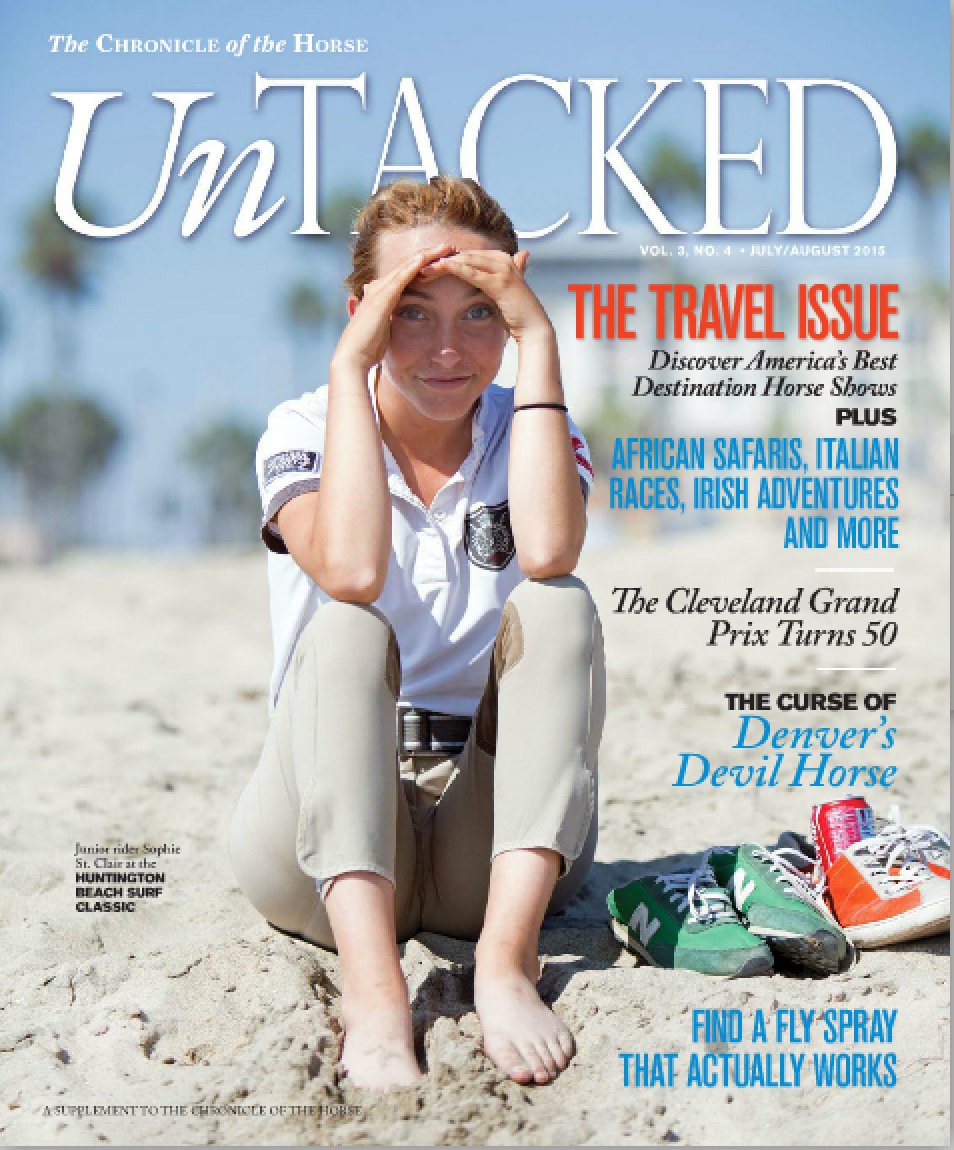 And, the July/August issue of Untacked is The Travel Issue...
Editor's Letter by Kat Netzler: Invest In Experiences
Why do we travel, Kat Netzler, Editor, asks. "Sometimes we all need a little nudge to encourage our participation as citizens of the world, but as you'll read in the pages that follow, we're lucky to have horses as a powerful facilitator." (Subscribers can read more.)
Test Lab: Beat The Heat And Bid Sunscreen Bye-Bye
Every major equestrian brand seems to have a UV-blocking, moisture-wicking, body-cooling cute tech top on the market this summer, and we put them to the test. (Subscribers can read more.)
Test Lab: Fend Off Flies With The Perfect Spray
There are natural options and chemical-based ones, some made with oil and some with water, and some critics say that none truly work. But we put 10 different bug-repelling sprays to the test to discover the merits of each and come out with some clear winners.
Cover Story: Destination Showcation
The mercury's rising, the days are lengthening, and vacation season is here again. But summer doesn't have to mean scrimping on your saddle time—now's the time to pack up the whole family and check out some of our country's best destination horse shows. From surf lessons just a mile from the showgrounds in Southern California to a brewery crawl via kayak in Northern Michigan to wheeled luging and bobsledding down the mountains of upstate New York, these horse shows cater to more than just competition. They're serious about summer fun. (Subscribers can read more.)
Photo Feature: Il Palio É Vita
Dating back to the 13th century, this is more than just the world's oldest horse race: "The Palio is life.". (Subscribers can read more.)
Enrolling Now: The Safari School Of Life
Spotting South African wildlife from the back of a horse is a bucket list-worthy experience, but going off the grid is priceless. (Subscribers can read more.)
Unguided And Off The Grid
Facing a major birthday and a mild identity crisis, the author embarks with purpose on an Irish riding vacation without a plan. (Subscribers can read more.)
History: The Cleveland Grand Prix: An American Show Jumping First
Celebrating its 50th anniversary in 2015, this historic contest in Ohio's Chagrin Valley was once a giant step forward for American horse sport. In an excerpt from her book, author Betty Weibel details the inaugural event in 1965. (Subscribers can read more.)
A Thoroughly Modern Ghillie
Scottish pony trainer Lucy Riddell may be a fan of pearls and purple polish, but her skills on the hill match that of any man. (Subscribers can read more.)
The Horse In Art: Blue, Bold And Unbridled
Colorado's most famous and polarizing equine sculpture has been called everything from beautiful to "blucifer." (Subscribers can read more.)
History And Heartbreak Hide Behind Sandy Point's Genteel Exterior
This working hrose farm, once a crown jewel of notorioous playboy Reginald Vanderbilt's country estate, still houses memories of a bygone era. (Subscribers can read more.)
The Patron Saint Of Thoroughbreds
The tragic loss of one horse inspired Jo Anne Normile to eventually save thousands more through her ingenious race horse rescue network, CANTER. (Subscribers can read more.)
City Guide: Savor Summer In Saratoga Springs
The historic racetrack is the heart of this upstate New York town, but there are so many more wonderful attractions and amazing restaurants. (Subscribers can read more.)
Charity Spotlight: A Closer Look At SquirrelWood Equine Sanctuary
By focusing on treating each rescue as a unique individual, SES makes a significant impact on down-on-their-luck horses. (Subscribers can read more.)
Magazine Writers Guidelines | Guidelines for Results | Guidelines for Art Gallery