Magazine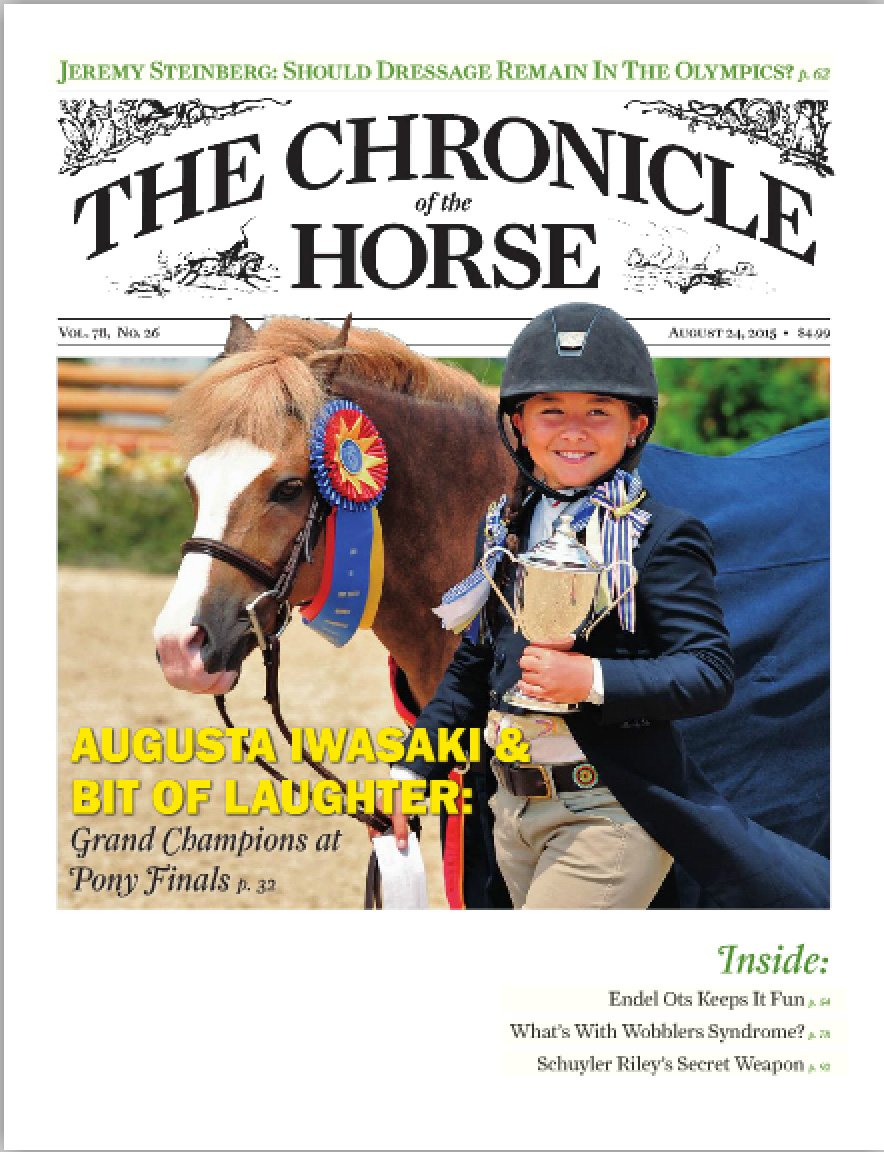 The Aug. 24 issue of The Chronicle of the Horse includes...
Commentary by Kimberly Loushin: Pony Finals Has Something For Everyone
It might seem the the U.S. Pony Finals are overflowing with big-budget mounts and pony rider pros, but in fact, it's a weekend when any pony rider with dreams can achieve a goal. "These kids don't complain that so-and-so has more money and that's why they always win. Most of them are just happy to be there," Editorial Staffer Loushin writes. (Subscribers can read more.)
In The Country
USEF Announces GABA Suspensions; Totilas Retires; Andrew Nicholson Undergoes Surgery After Fall At Gatcombe; Top Dressage Riders To Compete At Rolex Central Park Horse Show. (Subscribers can read more.)
Iwasaki Enjoys A Fairytale Pony Finals
The 11-year-old from California sweeps the grand championships. Read all about all the winners at the biggest pony competition in the country. (Subscribers can read more.)
Knock My Sox Off Does Just That In U.S. National Pony Jumper Championship

McDougald makes her last Pony Finals count aboard her longtime partner. It's rare for a pony rider at Pony Finals to have broken and trained their mount from the start, but this one did. In addition, the winning pony jumper team included a pony who almost died and one who came off the slaughter truck. (Subscribers can read more.)
Young Horses Are Helping Put Endel Ots On The Map
This up-and-coming professional takes two horses to the FEI World Breeding Championships at Verden. Who is Endel Ots? We found out. (Subscribers can read more.)
Between Rounds With Jeremy Steinberg: The Idea Of Fair Sport
Our columnist sees the exclusive nature of equestrian sports as a threat to their future with the Olympic Games. "Is it really the best of the best human athletes competing against each other for a slot on an Olympic team, or is it a few fortunate ones who find themselves on the best equine athletes at the right time?" he asks. (Subscribers can read more.)
Riley Relishes A Bromont International CSI-W Win
She keeps her winning streak alive with the feisty chestnut mare. It's been eight years since Schuyler Riley last competed in an FEI World Cup Final, but she took an important first step on a journey back to that level with a World Cup-qualifier win in Canada. (Subscribers can read more.)
Ami Du Houssoit And Lowe-Wiseman Shoot To The Top
Focusing on flatwork and steering has paid off for the Virginia grand prix rider, who also is the mother of a toddler (Subscribers can read more.)
SRI Aladdin Wows The Crowd In Tryon
Meagan Nusz wins the $127,000 August Grand Prix CSI*** with a horse she hopes to take to the top. (Subscribers can read more.)
Wobbler's Syndrome: Tricky To Diagnose And Even Harder To Resolve
Some horses with cervical vertebral malformation suffer from uncoordinated gaits, while others don't, and other conditions may mimic the symptoms. (Subscribers can read more.)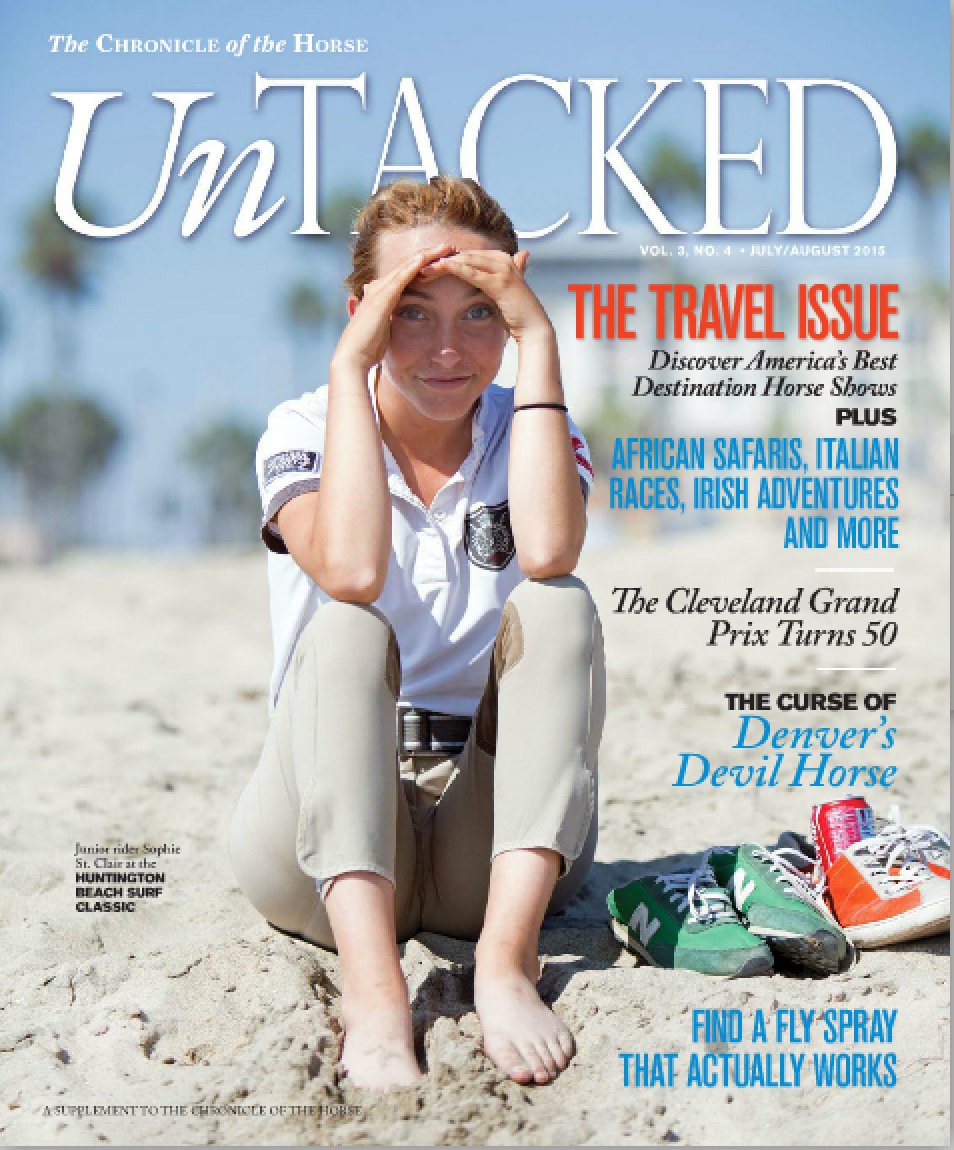 And, the July/August issue of Untacked is The Travel Issue...
Editor's Letter by Kat Netzler: Invest In Experiences
Why do we travel, Kat Netzler, Editor, asks. "Sometimes we all need a little nudge to encourage our participation as citizens of the world, but as you'll read in the pages that follow, we're lucky to have horses as a powerful facilitator." (Subscribers can read more.)
Test Lab: Beat The Heat And Bid Sunscreen Bye-Bye
Every major equestrian brand seems to have a UV-blocking, moisture-wicking, body-cooling cute tech top on the market this summer, and we put them to the test. (Subscribers can read more.)
Test Lab: Fend Off Flies With The Perfect Spray
There are natural options and chemical-based ones, some made with oil and some with water, and some critics say that none truly work. But we put 10 different bug-repelling sprays to the test to discover the merits of each and come out with some clear winners.
Cover Story: Destination Showcation
The mercury's rising, the days are lengthening, and vacation season is here again. But summer doesn't have to mean scrimping on your saddle time—now's the time to pack up the whole family and check out some of our country's best destination horse shows. From surf lessons just a mile from the showgrounds in Southern California to a brewery crawl via kayak in Northern Michigan to wheeled luging and bobsledding down the mountains of upstate New York, these horse shows cater to more than just competition. They're serious about summer fun. (Subscribers can read more.)
Photo Feature: Il Palio É Vita
Dating back to the 13th century, this is more than just the world's oldest horse race: "The Palio is life.". (Subscribers can read more.)
Enrolling Now: The Safari School Of Life
Spotting South African wildlife from the back of a horse is a bucket list-worthy experience, but going off the grid is priceless. (Subscribers can read more.)
Unguided And Off The Grid
Facing a major birthday and a mild identity crisis, the author embarks with purpose on an Irish riding vacation without a plan. (Subscribers can read more.)
History: The Cleveland Grand Prix: An American Show Jumping First
Celebrating its 50th anniversary in 2015, this historic contest in Ohio's Chagrin Valley was once a giant step forward for American horse sport. In an excerpt from her book, author Betty Weibel details the inaugural event in 1965. (Subscribers can read more.)
A Thoroughly Modern Ghillie
Scottish pony trainer Lucy Riddell may be a fan of pearls and purple polish, but her skills on the hill match that of any man. (Subscribers can read more.)
The Horse In Art: Blue, Bold And Unbridled
Colorado's most famous and polarizing equine sculpture has been called everything from beautiful to "blucifer." (Subscribers can read more.)
History And Heartbreak Hide Behind Sandy Point's Genteel Exterior
This working hrose farm, once a crown jewel of notorioous playboy Reginald Vanderbilt's country estate, still houses memories of a bygone era. (Subscribers can read more.)
The Patron Saint Of Thoroughbreds
The tragic loss of one horse inspired Jo Anne Normile to eventually save thousands more through her ingenious race horse rescue network, CANTER. (Subscribers can read more.)
City Guide: Savor Summer In Saratoga Springs
The historic racetrack is the heart of this upstate New York town, but there are so many more wonderful attractions and amazing restaurants. (Subscribers can read more.)
Charity Spotlight: A Closer Look At SquirrelWood Equine Sanctuary
By focusing on treating each rescue as a unique individual, SES makes a significant impact on down-on-their-luck horses. (Subscribers can read more.)
Magazine Writers Guidelines | Guidelines for Results | Guidelines for Art Gallery