Magazine
JULY 4, 2016
(Subscribers can read the full magazine online.)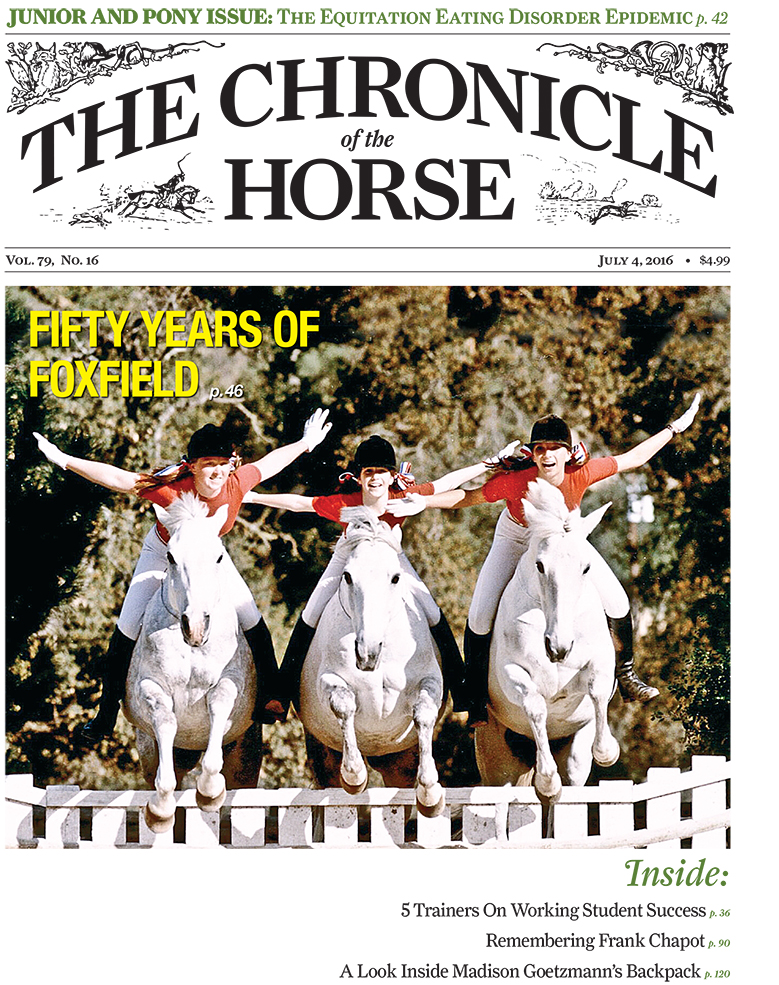 INSIDE: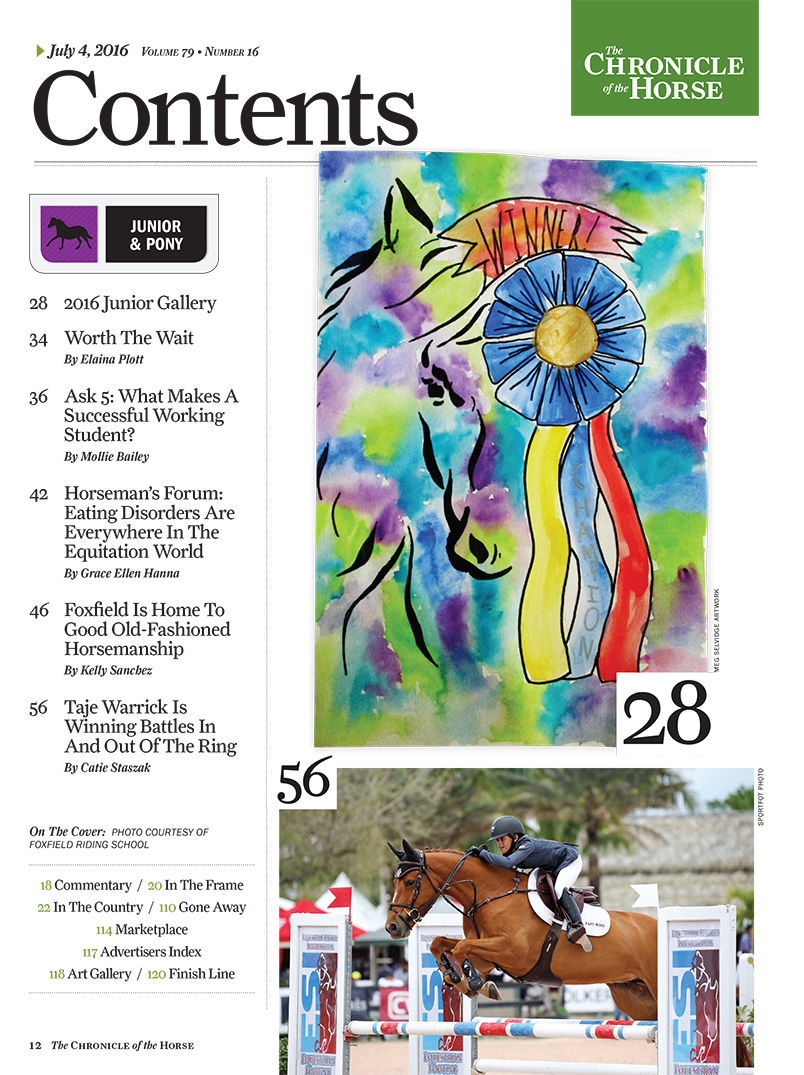 * 2016 Junior Gallery
* Ask 5: What Makes A Successful Working Student?
We ask Frank Madden, Andre Dignelli, Mike Huber, Jan Byyny and David Blake.
* Horseman's Forum: Eating Disorders Are Everywhere In The Equitation World
The author describes a horse world that can teach great life lessons—but can also push some young riders too far, too fast, in a demand for perfection.
* Foxfield Is Home To Good Old-Fashioned Horsemanship
As twins Nancy Turrill and JoAnn Postel prepare to celebrate their riding school's 50th anniversary, their focus on basics and good sportsmanship has never gone out of style.
* Taje Warrick Is Winning Battles In And Out Of The Ring
Less than two years after her struggles with brain surgery, this 12-year-old scores a big circuit championship.
* Lutz And Robin De Ponthual Score First Five-Star Victory At Spruce Meadows
Peter Lutz and "Robin" teamed up in the fall of 2014. After capturing the $100,000 Longines FEI World Cup Jumping qualifier at the Las Vegas National last November, they went on to finish in the top 20 at the Longines FEI World Cup Show Jumping Final in March.
* Vanderveen Takes A Chance For $380,000 Horseware Ireland Grand Prix CSI***** Win
When you're in an 11-horse jump-off, you know you have to go for it. And when Kristen Vanderveen cantered in for her turn over the short course in the $380,000 Horseware Ireland Grand Prix, that's exactly what she did.
* Horse Care: A Different Way Of Listening To Horses
Kerry Thomas, a self-titled "equine athletic psychologist," has developed a classification and training system based on the equine sports psyche and herd dynamics.
* Stories from Bromont CCI (Quebec), the USEF Para-Equestrian National Championship (Ill.), the West Coast Hunter Spectacular (Calif.), Upperville Horse Show (Va.), the Luhmuhlen CCI**** (Germany) and a tribute to Frank Chapot.
Plus: In The Country, In The Frame, Finish Line, Gone Away, Art Gallery, photo galleries, results and much more.
July/August Untacked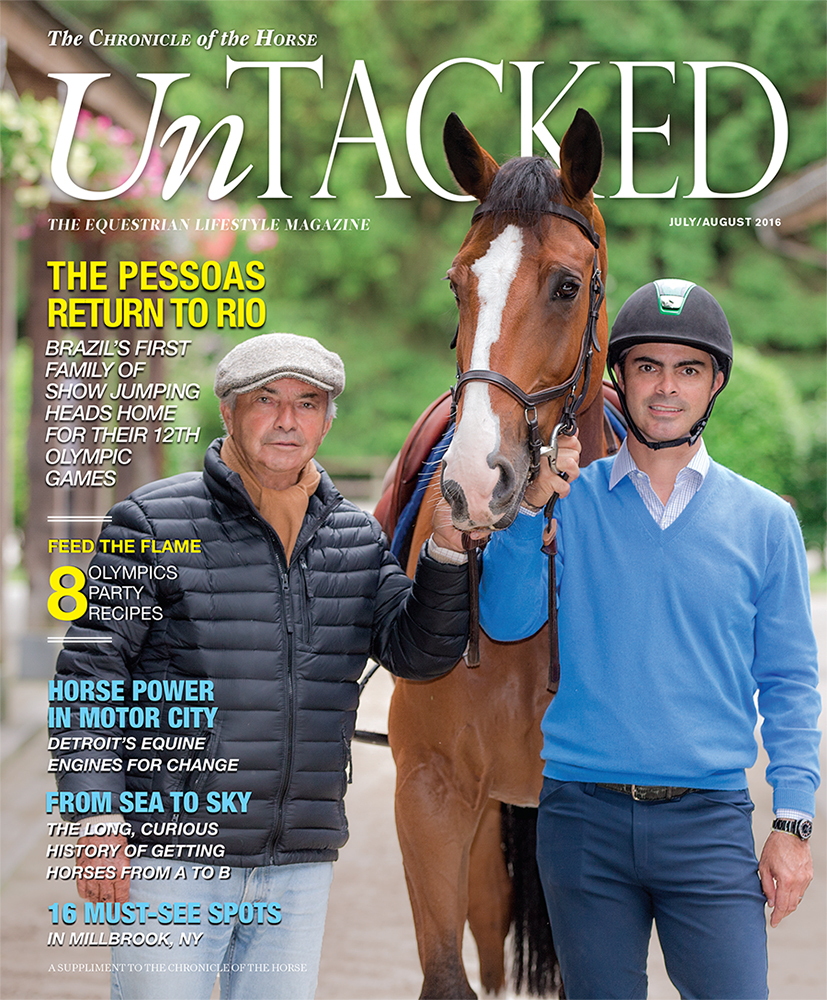 INSIDE:
We're just weeks away from the 2016 Olympic Games in Rio de Janeiro, and who better to heat up Olympic fever than Brazilian show jumping icons Nelson "Neco" Pessoa and his son Rodrigo? Untacked takes you all the way back to Neco's uncertain start at a military riding school in Rio, the origin of the Pessoas' influential legacy, and we meet the close-knit family outside the show ring to learn what drives this remarkable father and son.
No matter who you're rooting for at the Olympics, we've got your party solution with Brazilian and American food and drinks recipes. We also visit Detroit, where eventer-turned-teacher David Silver is using horses and horsemanship to help revitalize the inner city, and we head to the Wild West for some equine-inspired "glamping" trips that will satisfy those childhood cowboy dreams. And we discover the curious and fascinating history behind transporting equines from point A to point B.
If all that puts you in a road-trip mood, join us for a tour of Millbrook, N.Y.,'s best spots for reading, relaxing, getting back to nature or shopping in town. Along the way, meet an artist in the Pacific Northwest who calls on her veterinary career for her paintings and illustrations. And we consider a number of fitting final tributes for our equine partners. You'll find all of these stories and so much more in the July/August issue of Untacked, at the heart of equestrian life.
Plus: Editor's Letter, Editor's Picks, Tech Spotlight, Clothes Horse, Test Lab, Film Review, Feed Room, Parting Ways, Around The Arena, Charity Spotlight and much, much more!
Magazine Writers Guidelines | Guidelines for Results | Guidelines for Art Gallery