Magazine
OCTOBER 17, 2016
(Subscribers can read the full magazine online.)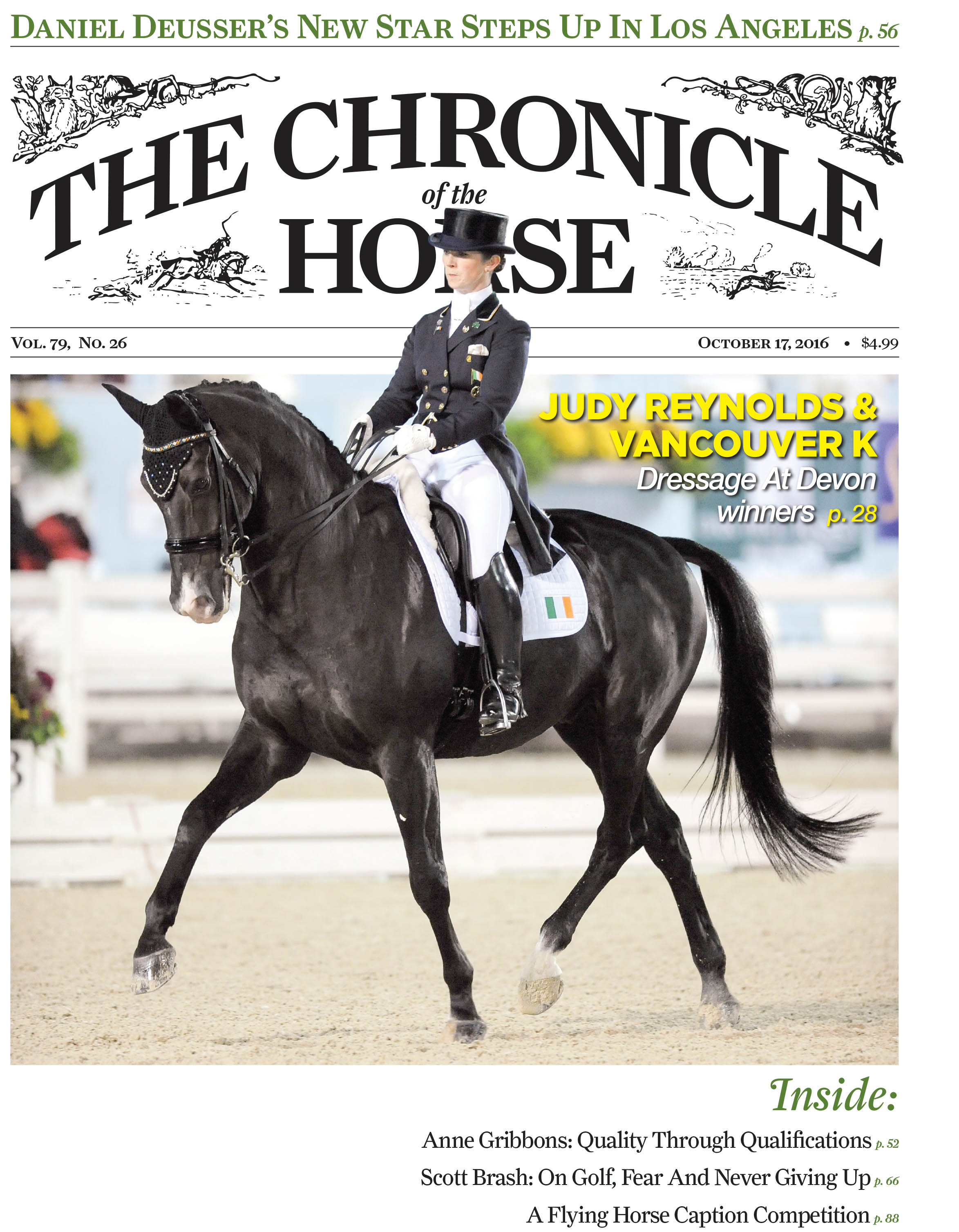 INSIDE: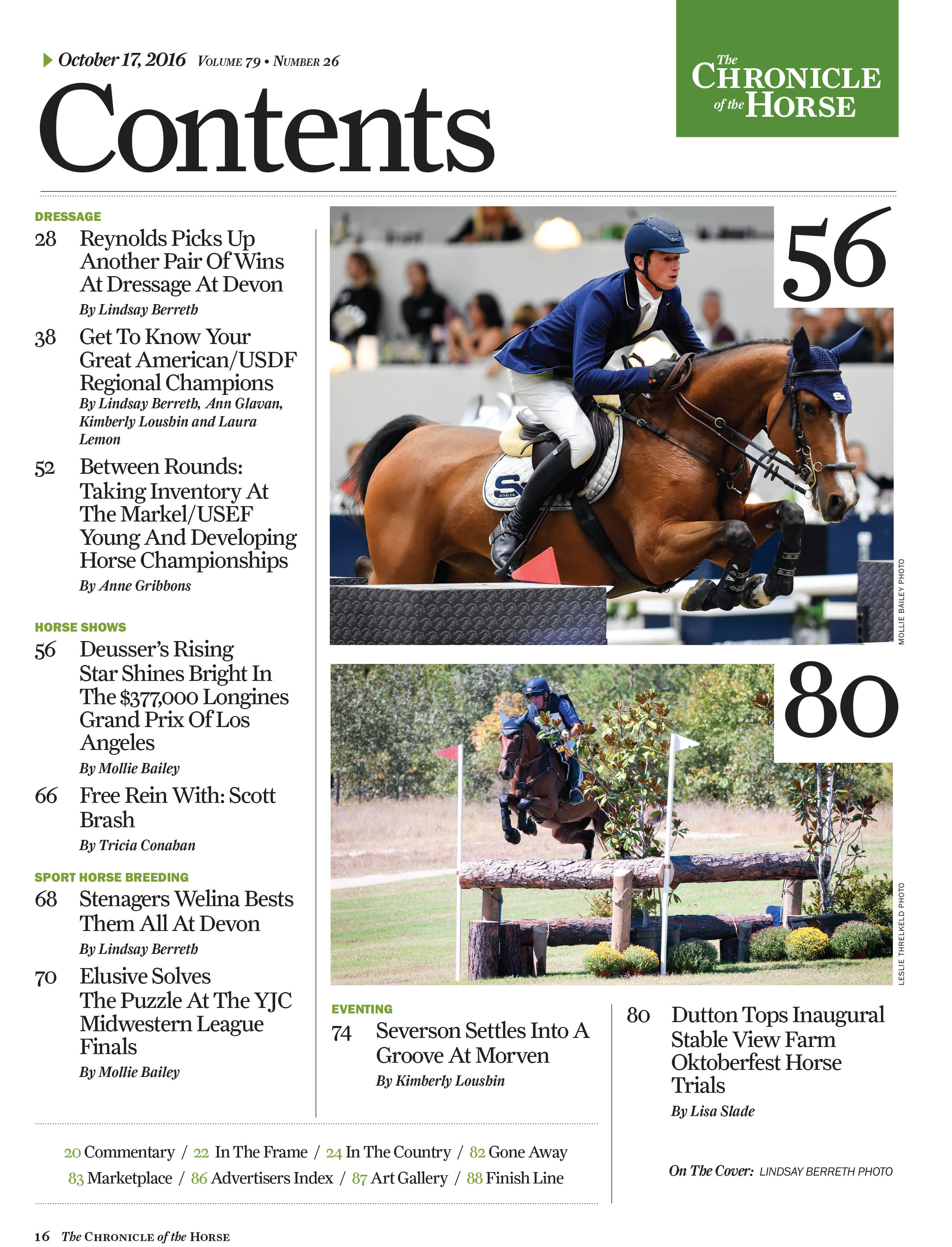 * Reynolds Picks Up Another Pair Of Wins At Dressage At Devon
Before this year, Irish rider Judy Reynolds had never won a CDI, But after a win at Achleiten (Germany) in June, a strong appearance at the Olympic Games in Rio de Janeiro, and two wins at the Rolex Central Park Horse Show, she was on a roll with Vancouver K.
* Get To Know Your Great American/USDF Regional Champions
We talk to riders who won in Regions 2, 6, 7 and 8.
* Between Rounds with Anne Gribbons: Taking Inventory At The USEF Young And Developing Horse Championships
Our columnist evaluates the difference between the classes for which riders need to qualify and those for which they do not.
* Deusser's Rising Star Shines Bright In The $377,000 Longines Grand Prix Of Los Angeles
Last May Daniel Deusser found himself in a bit of a funk. His top horse, 2014 Longines FEI World Cup Final winner Cornet D'Amour, was out of action with an injury. Deusser needed all the talent he could get, with a spring and summer calendar packed with five-star shows, and a selective schedule for his Olympic prospect First Class van Eeckelghem.
* Free Rein With: Scott Brash
Scott Brash knows how to come back, with style. This summer he missed being on the British show jumping team in Rio when his two leading horses, Hello Sanctos and Hello M'Lady, were sidelined with minor but poorly timed injuries.
* Stenagers Welina Bests Them All At Devon
When Stenagers Welina's name was called as the grand champion at the Dressage At Devon breed show for a second year in a row, her owner Nancy Radtke and trainer Babsi Neidhardt-Clark couldn't contain their excitement.
* Severson Settles Into A Groove At Morven
There's just something Cooley Cross Border likes about the mud and the rain. In last year's Morven Park Fall Horse Trials and CIC, heavy precipitation made for sloppy going in the CIC divisions. The horse trial was downgraded to a combined test. But despite the deep footing and a lost shoe, Kim Severson piloted him to third in the CIC***, and this year, once again the gelding braved the slop to finish on his dressage score.
Plus: stories from the Stable View Farm Oktoberfest Horse Trials (S.C.) and YJC Midwestern League Finals (Calif.), plus Commentary, In The Frame, In The Country, Gone Away, Art Gallery, Finish Line, results, photos and much, much more.
September/October Untacked
(Subscribers can read the full magazine online.)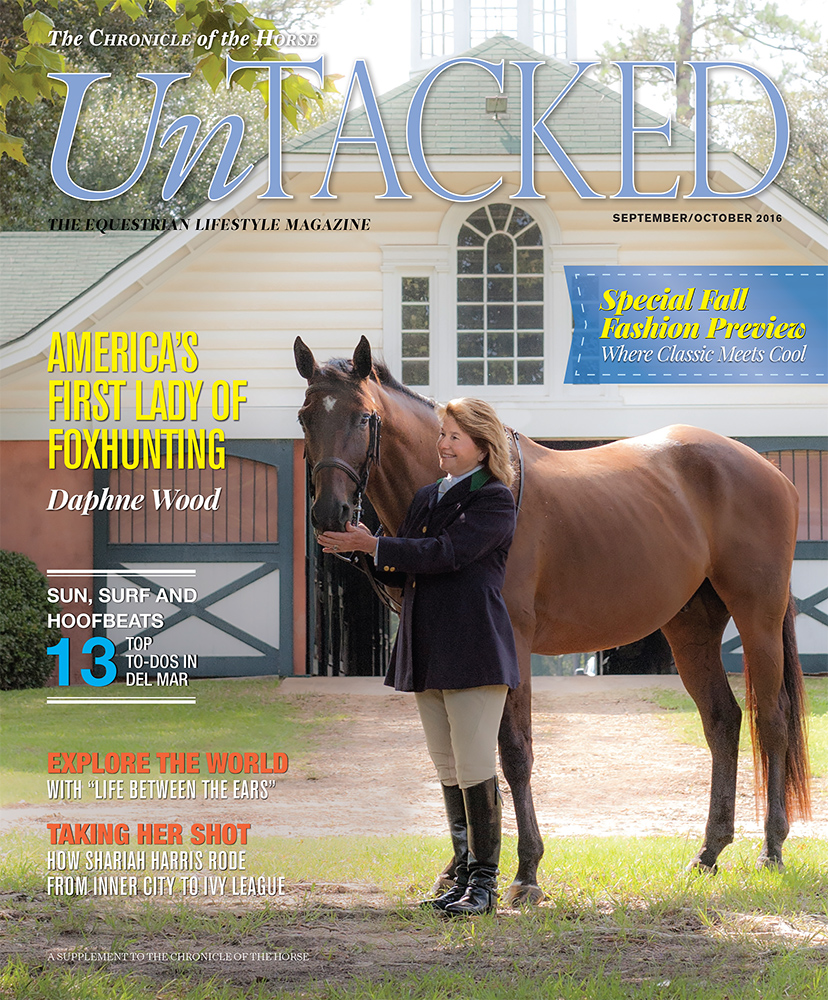 INSIDE:
If you love the great outdoors, you'll want to meet Daphne Wood, the energetic "quintessential Southern lady" and co-founder of the Live Oak Hounds whose passion for hunting around the world is matched by her zeal for land conservation. In Untacked's cover story, find out how her childhood freedom to roam and a devotion to horses and hounds ignited Wood's desire to preserve both the sporting life and the green spaces it requires, and to inspire new generations of riders to join the chase.
You don't have to be Nimrod to host one of autumn's best traditions: the hunt breakfast. We've got you covered with flavors from the United States, Ireland and Great Britain (with a touch of curry from India!).
Get the travel bug with our new department based on the social media phenomenon Life Between The Ears: a regular photo feature with breathtaking images from around the globe, all taken from horseback. We also check into Mexico's magnificent Rancho Las Cascadas in this issue for a ride with Mexico's caballeros. From beachfront to backstretch, we've scouted all the best spots in Del Mar, Calif., for you in our City Guide. And we step back in time at Pebble Beach, one of the equestrian world's most romantic competition venues.
For back-to-school season, we meet an inspiring Cornell University (N.Y.) freshman, Shariah Harris. Philadelphia's Work To Ride polo program helped her ride from the inner city to the Ivy League. And our Fall Fashion Preview sets you up for the cooler season with bold new twists on some classic looks.
There's even more inside the September/October issue of Untacked, at the intersection of equestrian life and style.
Plus: Editor's Letter, Editor's Picks, Tech Spotlight, Clothes Horse, Test Lab, Film Review, Feed Room, Parting Ways, Around The Arena, Charity Spotlight and much, much more!
Magazine Writers Guidelines | Guidelines for Results | Guidelines for Art Gallery