Magazine
JANUARY 16 & 23, 2017
(Subscribers can read the full magazine online.)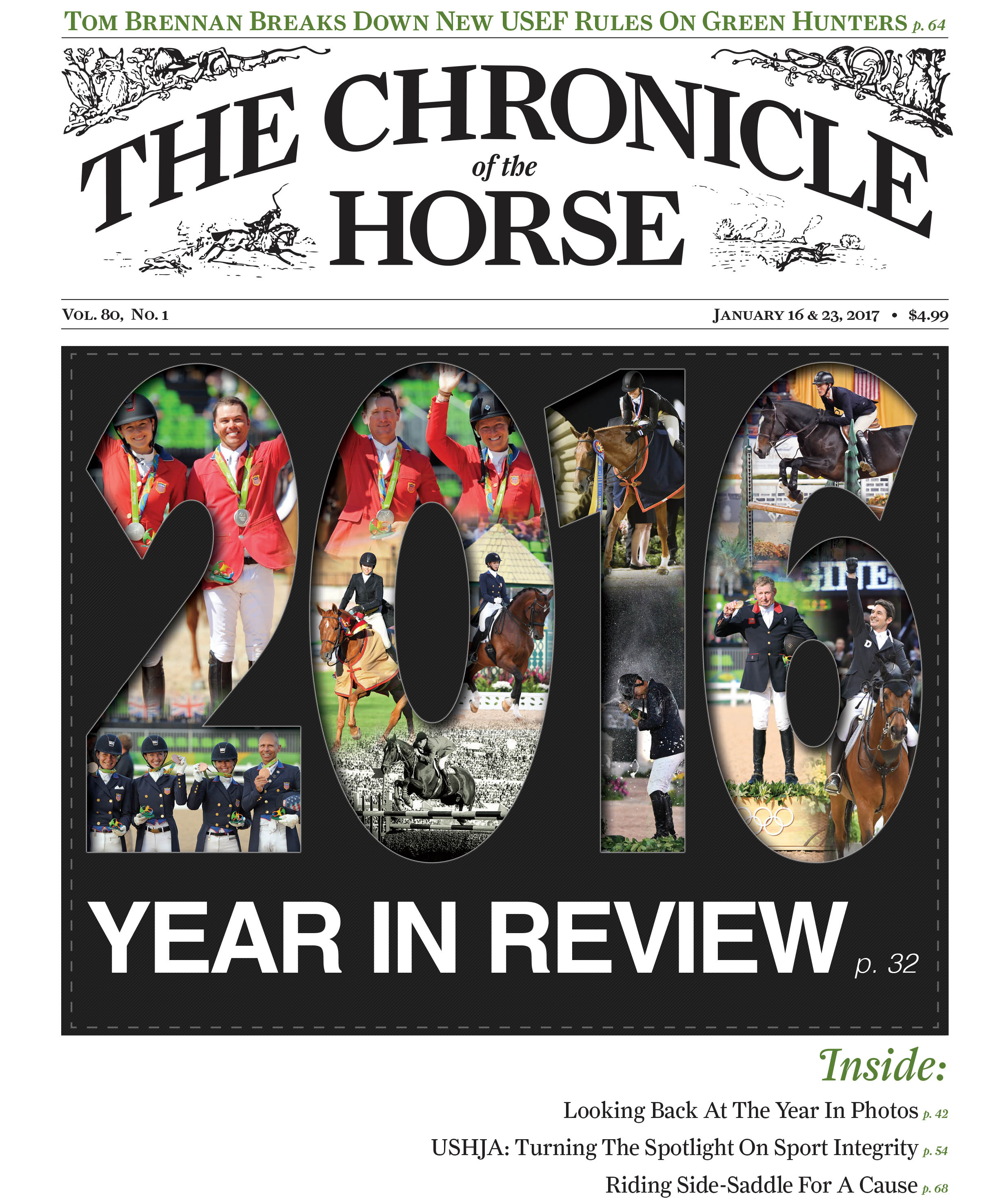 INSIDE: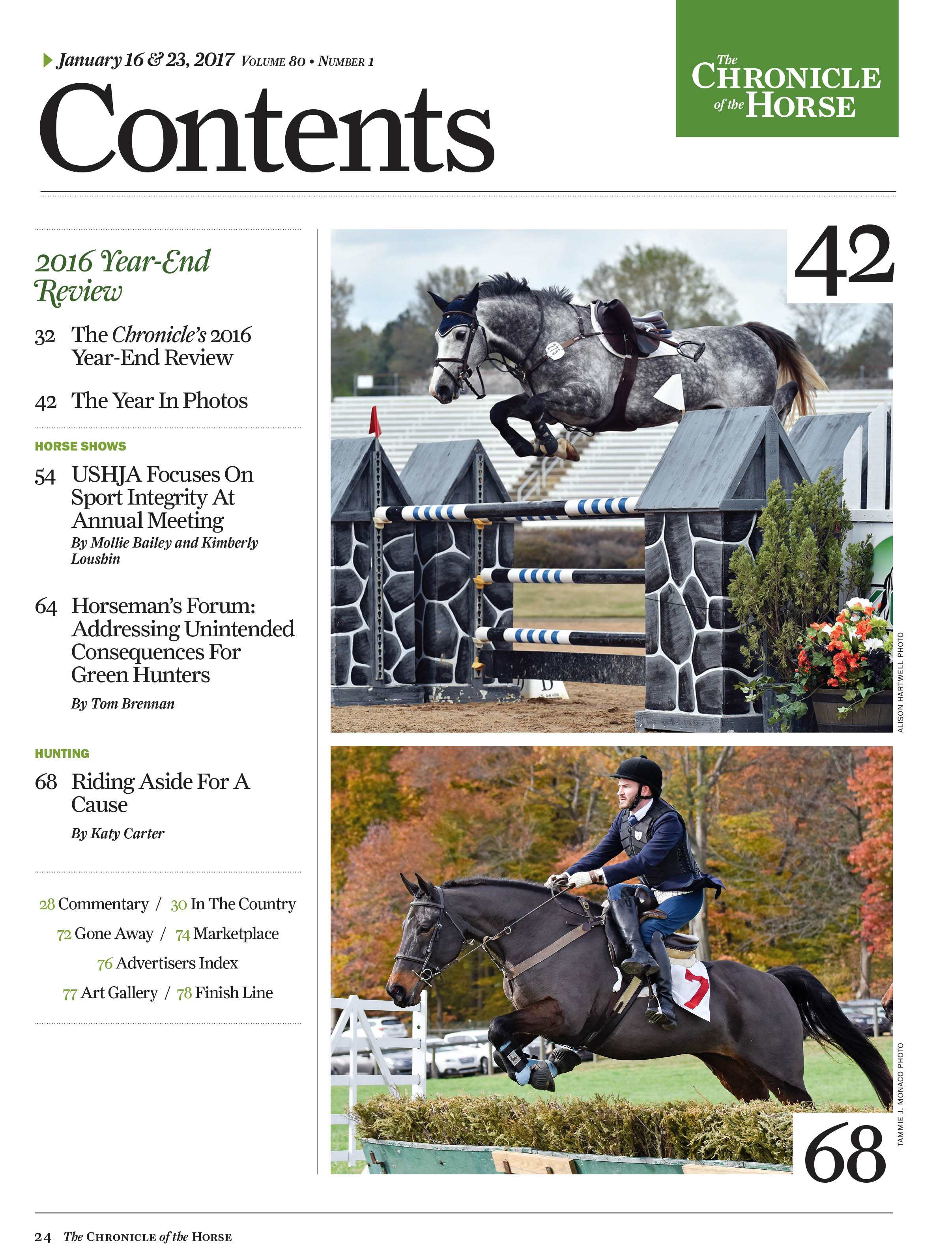 * The Chronicle's 2016 Year-End Review
The year's highlights, lowlights, inspirations, those we'll miss and memorable quotes.
* The Year In Photos
Top equestrian photographers share their favorite images of 2016 and the stories behind the pictures.
* USHJA Focuses On Sport Integrity At Annual Meeting
For years, the conversations at the U.S. Hunter Jumper Association's Annual Meeting have circulated around the idea of growing the sport, and at this year's meeting, attendees pointed to one major hurdle: sport integrity, or lack thereof.
* Horseman's Forum with Tom Brennan: Addressing Unintended Consequences For Green Hunters
The trainer sees flaws in the new USEF rules about green hunters - but show managers can still avoid them if they act quickly.
* Riding Aside For A Cause
When the jockeys lined up for the Mrs. Ford B. Draper Side Saddle Race, held at the Pennsylvania Hunt Cup, one rider stood out from the group. Side-saddle is traditionally a ladies' game, but Andrew Camp isn't letting convention stop him from pursuing his passion.
Plus: Commentary, In The Country, Gone Away, Art Gallery, Finish Line, results, photos and much, much more.
January/February Untacked
(Subscribers can read the full magazine online.)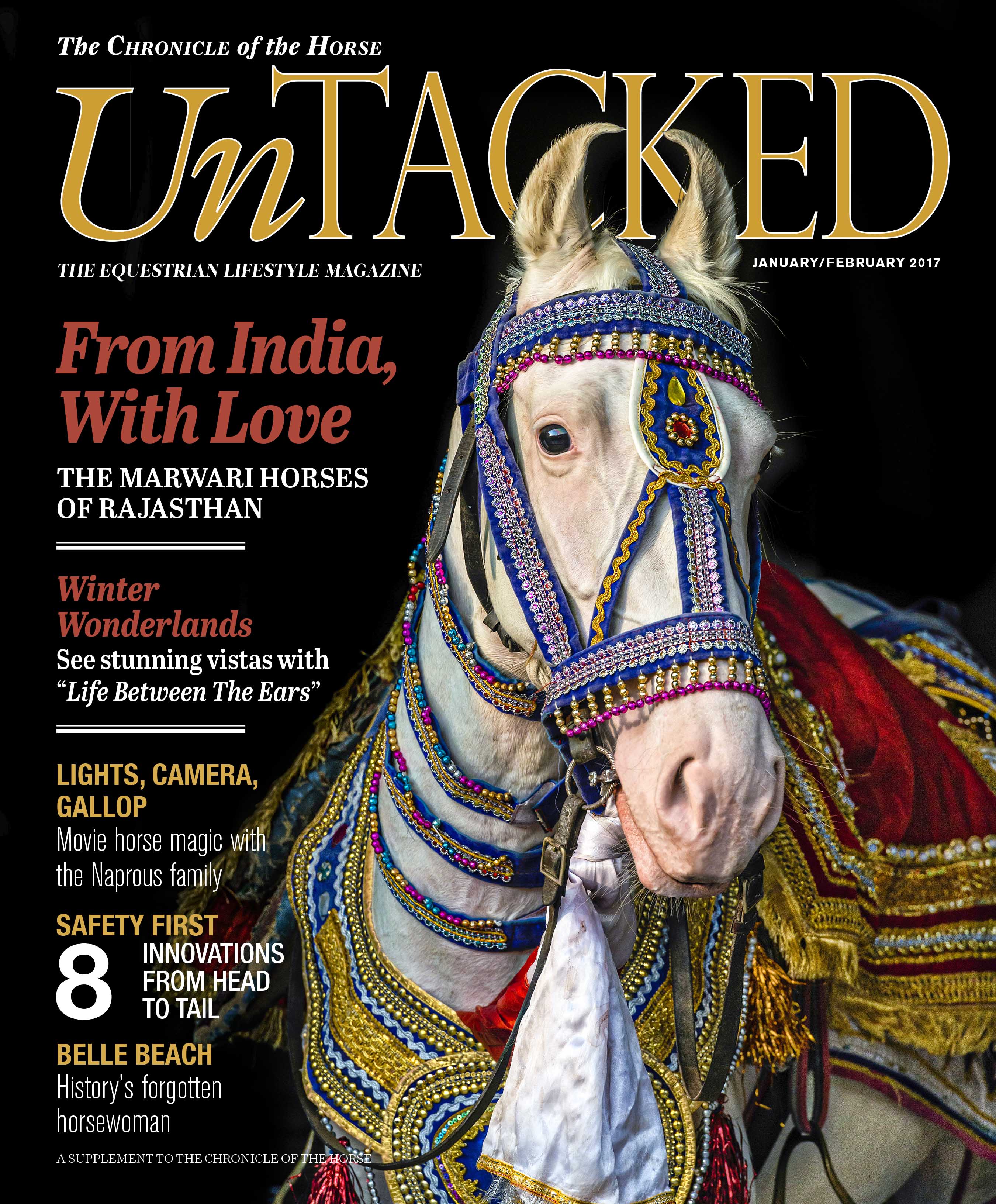 INSIDE:
* Hollywood Horses
From Wonder Woman to Game of Thrones, the Naprous family works with the equine stars of big-name television shows and movies to create the magic you see onscreen.
* The Striking Beauty - And Ears - Of The Marwari Horse
A trip to Rajasthan yields a cultural education, artistic inspiration and a newfound love of India.
* At Home With Melanie Smith Taylor
Wildwood Farm's bygone glory can still be felt in Germantown, Tenn.
* Seeing Sunny Segovia Through Gray Ears
The author completes the TREC World Championships in Spain and forms a partnership she will remember forever.
* Belle Beach: Ahead Of Her time
Author of the 1912 book Riding And Driving For Women, Beach was once considered the world's greatest equestrienne.
* Vive La Différence­
A day out with staghounds in France's Villers-Cotterêts forest sets an ancient equestrian pursuit to music.
* Feed Room: The Patron Saint Of Horse Show Food
Veterinarian and eventing enthusiast Dr. Steven Berkowitz draws crowds with his famous burgers and baked goods.
* City Guide: Franklin, Tenn.
This charming historic town, just 14 miles south of Nashville, is a hotbed for country music, fine dining, antiques and Southern hospitality. It's also situated in the heart of horse country.
Plus: Editor's Letter, Around The Arena, Editor's Picks, Tech Spotlight, Test Lab, Clothes Horse, Book Reviews, Charity Spotlight, Best Of Web & Print, Life Between The Ears and Parting Ways! There's even more inside the January/February issue of Untacked, at the intersection of equestrian life and style.
Magazine Writers Guidelines | Guidelines for Results | Guidelines for Art Gallery