Magazine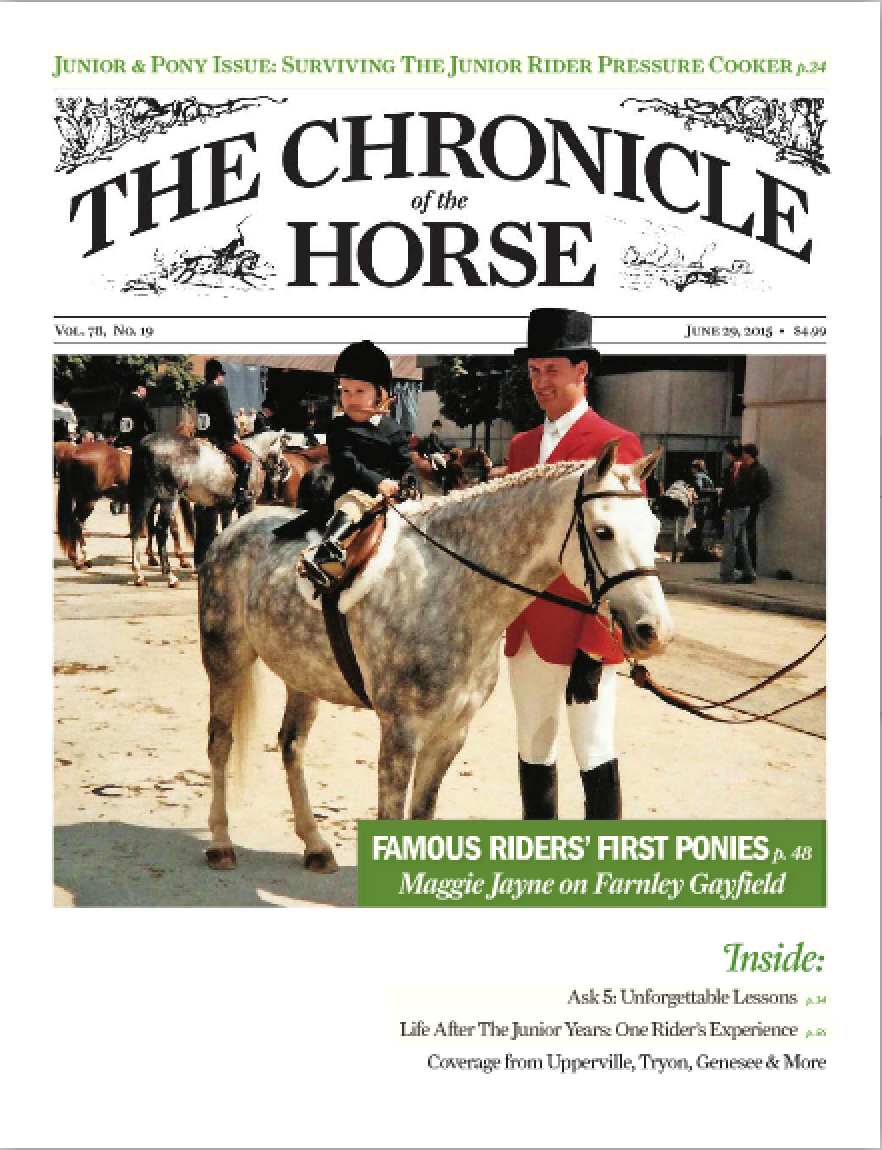 The June 29 issue of The Chronicle of the Horse is the Junior and Pony Issue and includes...
Commentary by Beth Rasin—Making Childhood Magic, Not Tragic
How do you balance preparing young riders to succeed with them having fun? It's a tricky balance, as Beth Rasin addresses. "We have our whole lives to ride. It's never too late to move up to 3'6" or tackle a higher level in dressage or eventing. But you can only be a goofy kid once," she wrote. (Subscribers can read more.)
In The Country
USEF Names U.S. Pan American Show Jumping Team; Tryon International Equestrian Center And Colorado Horse park To Host American Eventing Championships; Global Champions League Files Legal Complaint Against FEI; Ground Jury Awards Yellow Card And Verbal Warning At Jaguar Land Rover Bromont CCI; Show Jumper Gorre Euthanized After Breaking Leg; Jessy Du Breau Dies At Ox Ridge; Eventer Guillaume Pucci Dies Seven Months After Cross-Country Fall; Calvin Euthanized After Aspen Farms Cross-Country Accident; USEF Announces Land Rover Competition Grant Recipients For Rebecca Farm CCI; Andromaque Retires; USEF Names Eventing High Performance Summer/Fall Training Lists. (Subscribers can read more.)
The Price Of Perfection
Is it the show circuit or the type of teenager who chooses competitive riding? Either way, coming of age at the in-gate can be synonymous with stress. "There's a small window for the goal-oriented kids to get a tremendous amount accomplished," Stacia Madden points out in this probing look at the demands and expectations junior riders face. (Subscribers can read more.)
Ask 5: Who Was Your Most Influential Childhood Trainer And What Did He Or She Teach You?

Five top riders discuss the lessons they learned as juniors that have stuck with them through the years. (Subscribers can read more.)
Junior Art Gallery
Each year, in the Junior and Pony Issue, we turn over the pages of the magazine to junior artists to showcase their work with painting, drawing, sculpture, writing and more. (Subscribers can read more.)
My Little Pony
Not every professional learns to ride atop a pony, but these four superstars did, and they share fond memories of those patient steeds. (Subscribers can read more.)
Horses Have Taught Chace Simmons Far More Than Riding
Through good times and bad, this teenager's connection with horses has led to a lot of life lessons. Her mother's illness and financial challenges have made Chace have to get creative about building a life with horses. (Subscribers can read more.)
Horseman's Forum: Life After Your Junior Career
When she turned 18, this young rider had to find her own way to stay in the saddle. (Subscribers can read more.)
Bento Box Brings A Little Of Everything To His Young Riders
He's taught confidence and horsemanship to two juniors on their way to USEA Pony of the Year titles. (Subscribers can read more.)
Social Hour Attracts A Crowd During The $25,000 WCHR West Coast Hunter Spectacular
John Bragg's first year green partner stands out in the first major class of his career. (Subscribers can read more.)
Moloney's Masterful In $210,000 Tryon Grand Prix For The Governor's Cup
Carrabis Z gallops to victory in the first CSI**** held at the new North Carolina facility. (Subscribers can read more.)
Cristallo Still Shines Golden At Spruce Meadows
Richard Spooner rides an old friend to the top of the $168,984 CNOOC Nexen Cup Derby. (Subscribers can read more.)
Quintana Bounces Back For A Hometown Win At Upperville
He may have been riding with bruised ribs, but that didn't stop this local professional from topping the $100,000 Upperville Jumper Classic with Whitney. Also read the judges' reasoning behind awarding Tori Colvin and Way Cool a score of 100 in a junior handy hunter round. (Subscribers can read more.)
Winkel's Homebred Enters First Grand Prix And Wins At HMI June Classic
Osophia tops the $30,000 Ariat Grand Prix at the Sonoma Horse Park. She's a horse Kevin Winkel chose from his mother's breeding program. (Subscribers can read more.)
Little Doubles Down At Jaguar Land Rover Bromont
She takes the CCI*** title with RF Demeter and the CCI** win with RF Overdressed. "It's like putting on an old leather jacket when you walk in the start box on a horse like that," Little said. (Subscribers can read more.)
Jacob Fletcher Enjoys Smooth Sailing At Roebke's Run
The young professional and Fly Away Ferro take a win in the gelding's first CCI**. (Subscribers can read more.)
Rosamunde Advances At Achleiten
Steffen Peters rides his young Grand Prix star to top placings on the final leg of the U.S. Pan American observation squad's European tour. (Subscribers can read more.)
Will Dazzle Leads A Cajun Invasion At Upperville
The 2-year-old from Louisiana claims the Best Young Horse title for Hil Cat Farm. (Subscribers can read more.)
Gone Away
Charles Armstrong "Chick" Chapin; Spitfire. (Subscribers can read more.)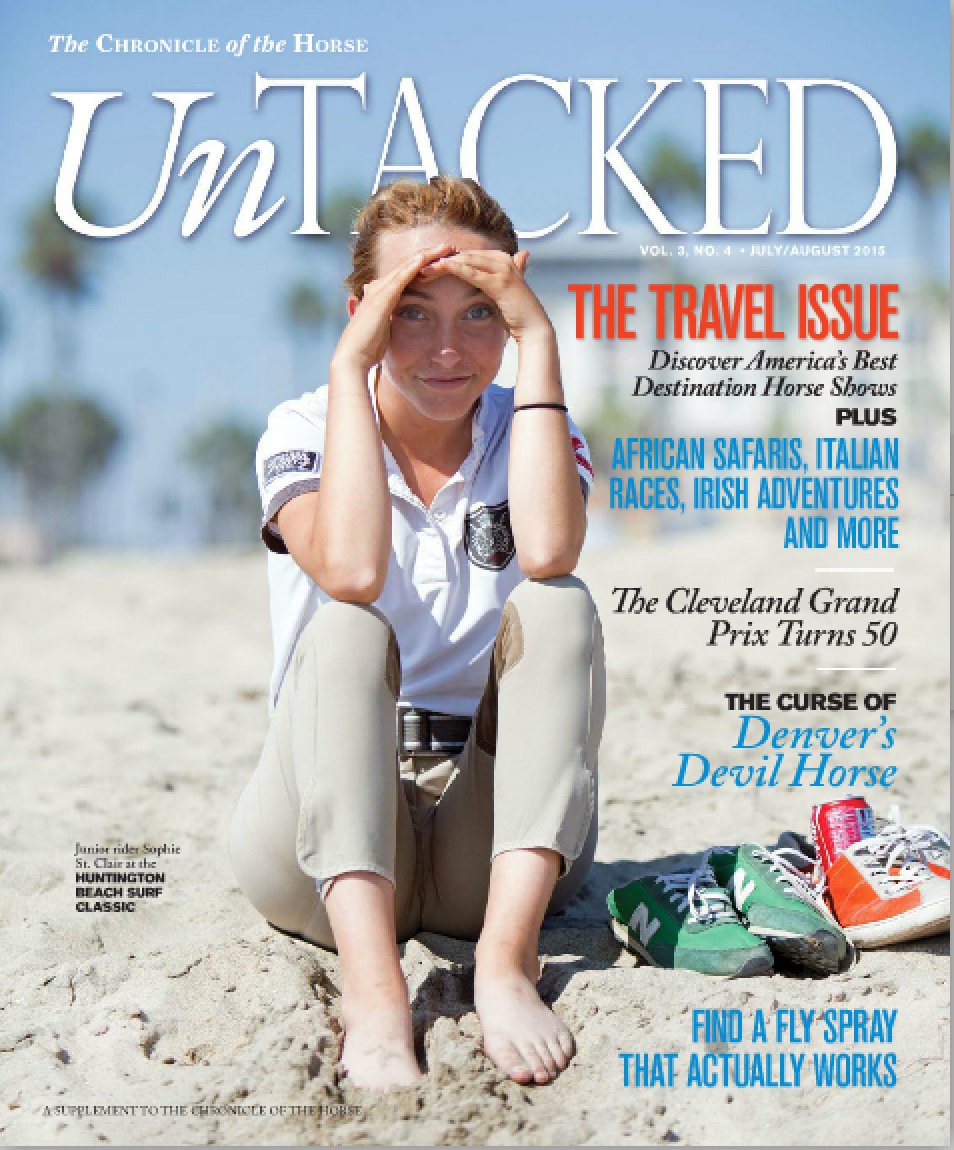 And, the July/August issue of Untacked is The Travel Issue...
Editor's Letter by Kat Netzler: Invest In Experiences
Why do we travel, Kat Netzler, Editor, asks. "Sometimes we all need a little nudge to encourage our participation as citizens of the world, but as you'll read in the pages that follow, we're lucky to have horses as a powerful facilitator." (Subscribers can read more.)
Test Lab: Beat The Heat And Bid Sunscreen Bye-Bye
Every major equestrian brand seems to have a UV-blocking, moisture-wicking, body-cooling cute tech top on the market this summer, and we put them to the test. (Subscribers can read more.)
Test Lab: Fend Off Flies With The Perfect Spray
There are natural options and chemical-based ones, some made with oil and some with water, and some critics say that none truly work. But we put 10 different bug-repelling sprays to the test to discover the merits of each and come out with some clear winners.
Cover Story: Destination Showcation
The mercury's rising, the days are lengthening, and vacation season is here again. But summer doesn't have to mean scrimping on your saddle time—now's the time to pack up the whole family and check out some of our country's best destination horse shows. From surf lessons just a mile from the showgrounds in Southern California to a brewery crawl via kayak in Northern Michigan to wheeled luging and bobsledding down the mountains of upstate New York, these horse shows cater to more than just competition. They're serious about summer fun. (Subscribers can read more.)
Photo Feature: Il Palio É Vita
Dating back to the 13th century, this is more than just the world's oldest horse race: "The Palio is life.". (Subscribers can read more.)
Enrolling Now: The Safari School Of Life
Spotting South African wildlife from the back of a horse is a bucket list-worthy experience, but going off the grid is priceless. (Subscribers can read more.)
Unguided And Off The Grid
Facing a major birthday and a mild identity crisis, the author embarks with purpose on an Irish riding vacation without a plan. (Subscribers can read more.)
History: The Cleveland Grand Prix: An American Show Jumping First
Celebrating its 50th anniversary in 2015, this historic contest in Ohio's Chagrin Valley was once a giant step forward for American horse sport. In an excerpt from her book, author Betty Weibel details the inaugural event in 1965. (Subscribers can read more.)
A Thoroughly Modern Ghillie
Scottish pony trainer Lucy Riddell may be a fan of pearls and purple polish, but her skills on the hill match that of any man. (Subscribers can read more.)
The Horse In Art: Blue, Bold And Unbridled
Colorado's most famous and polarizing equine sculpture has been called everything from beautiful to "blucifer." (Subscribers can read more.)
History And Heartbreak Hide Behind Sandy Point's Genteel Exterior
This working hrose farm, once a crown jewel of notorioous playboy Reginald Vanderbilt's country estate, still houses memories of a bygone era. (Subscribers can read more.)
The Patron Saint Of Thoroughbreds
The tragic loss of one horse inspired Jo Anne Normile to eventually save thousands more through her ingenious race horse rescue network, CANTER. (Subscribers can read more.)
City Guide: Savor Summer In Saratoga Springs
The historic racetrack is the heart of this upstate New York town, but there are so many more wonderful attractions and amazing restaurants. (Subscribers can read more.)
Charity Spotlight: A Closer Look At SquirrelWood Equine Sanctuary
By focusing on treating each rescue as a unique individual, SES makes a significant impact on down-on-their-luck horses. (Subscribers can read more.)
Magazine Writers Guidelines | Guidelines for Results | Guidelines for Art Gallery