Magazine
MAY 16 & 23, 2016
(Subscribers can read the full magazine online.)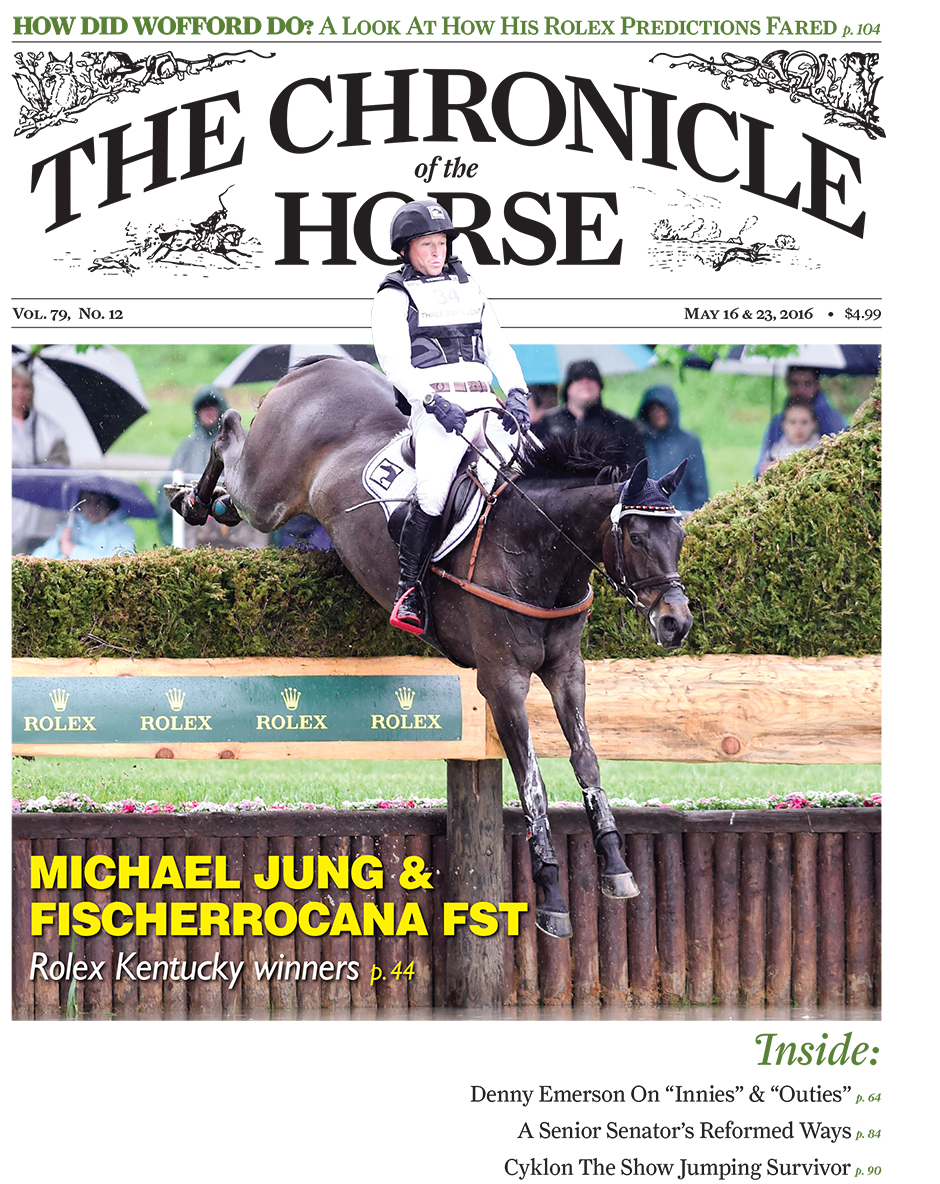 INSIDE:
* Jung Secures His Second Rolex Kentucky Win
Michael Jung has made three trips to the Kentucky Horse Park, and every single time he's returned to Horb, Germany, with the winner's hardware in his hand.
* Rolex Kentucky Three-Day Event Photo Gallery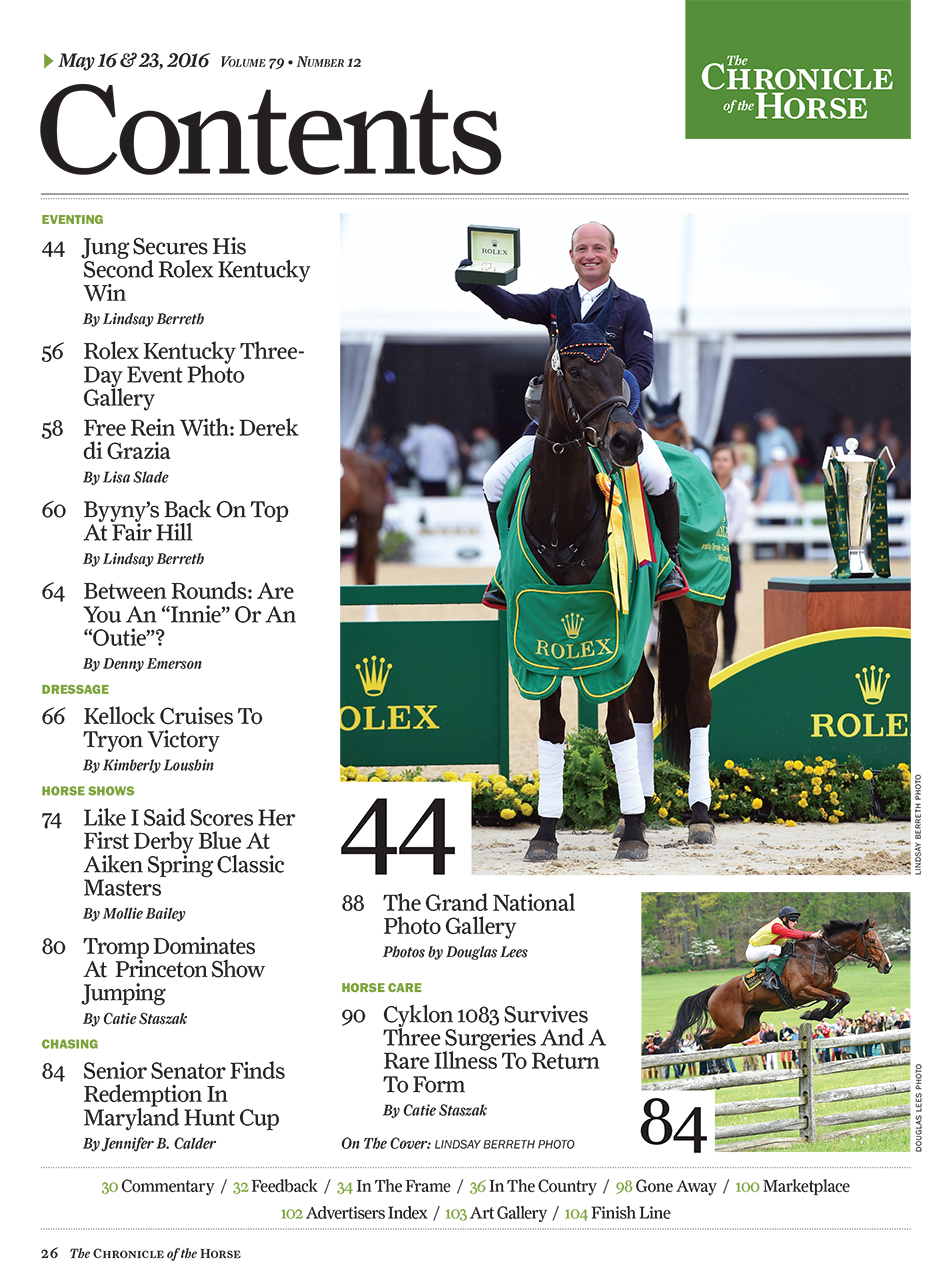 * Free Rein With: Derek di Grazia
Derek di Grazia is the hottest course designer in the world right now, with the 2018 FEI World Equestrian Games in Bromont, Quebec, and the 2020 Olympic Games in Tokyo on his dance card.
* Byyny's Back On Top At Fair Hill
A few years ago, Jan Byyny was looking unstoppable. With Inmidair, she won the 2013 Dutta Corp. Fair Hill International CCI*** (Md.), then went on to finish seventh at the 2014 Rolex Kentucky CCI****, resulting in a spot on the short list for the Alltech FEI World Equestrian Games (France).
* Between Rounds with Denny Emerson: Are You An "Innie" Or An "Outie"?
Is your riding sport inside a riding ring, a dressage arena or other contained space, where spectators can sit in one place and watch you ride? Or do you seek the wide open places, and is your road song, "Don't Fence Me In"?
* Horse Care: Cyklon 1083 Survives Three Surgeries And A Rare Illness To Return To Form
This show jumping stallion nearly died of guttural pouch mycosis, yet just a few months later he was winning in Wellington.
* Senior Senator Finds Redemption In Maryland Hunt Cup
Following a disqualification the previous Saturday, the 6-year-old reformed troublemaker took home the coveted trophy.
* Kellock Cruises To Tryon Victory
What do you do when you've got a new mount and want to do a freestyle but don't have time to put one together? If you're Lindsay Kellock, you ask to borrow a friend's.
* Stories from Princeton Show Jumping (N.J.) and the Aiken Spring Classic Masters (S.C.).
Plus: In The Country, In The Frame, Finish Line, Gone Away, Art Gallery, photo galleries, results and much more.
May/June Untacked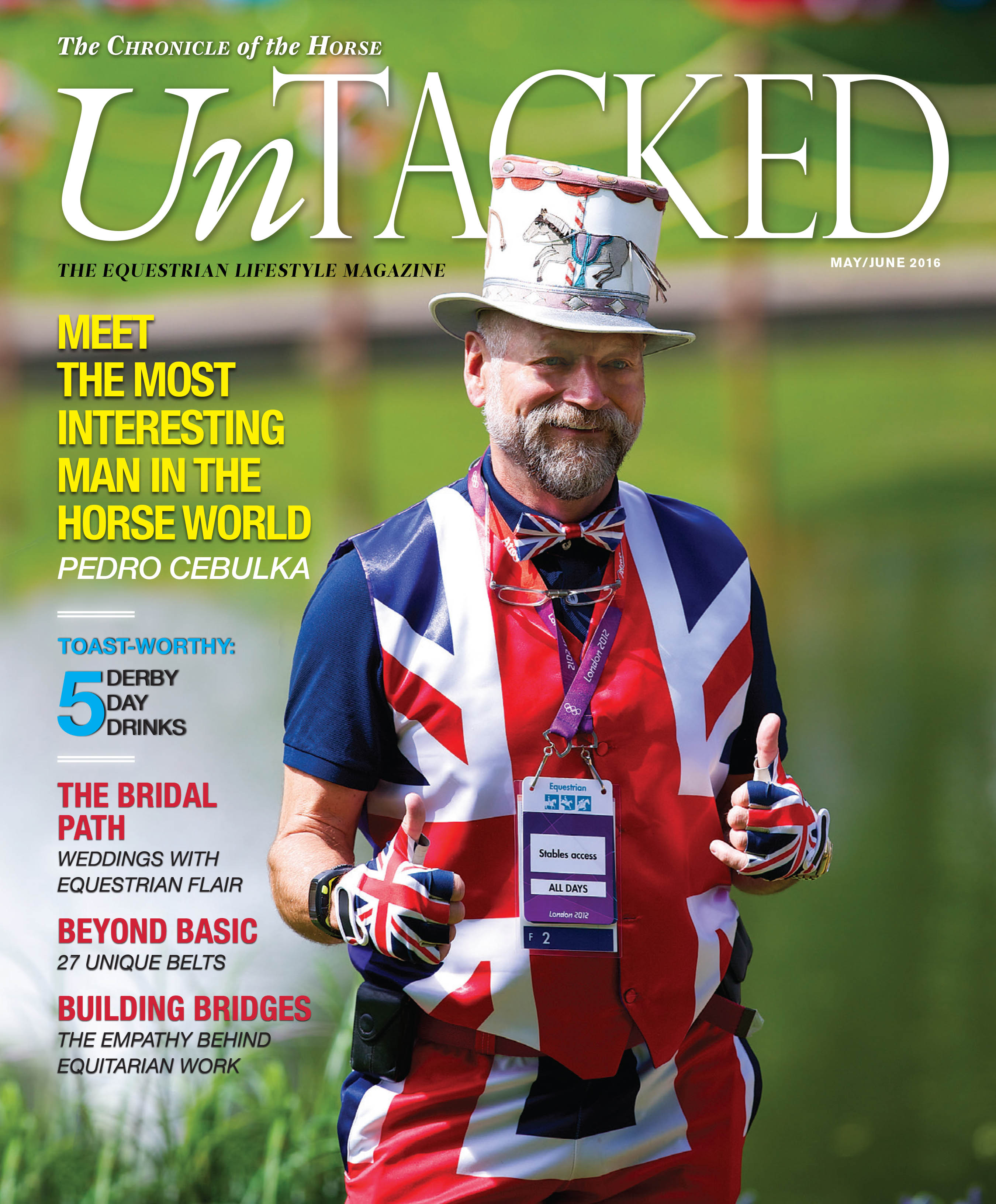 INSIDE:
We're gearing up for summer shows with a look at the one and only Pedro Cebulka, one of the most beloved characters on the circuit, who's brought perspective and defined his role with a vibrant, larger than life personality. We look into the sometimes complicated relationships navigated by "equitarians" around the world, and we meet the family behind New Vocations, one of the most prominent organizations working to transition race horses into new jobs.
If you're showing in Camden, S.C., this summer, we'll give you the inside scoop on the best places to eat, shop and enjoy, and we bring you a glimpse of the latest, hottest trends in accessorizing with 27 new takes on the belt. We give a nod to fathers who support our horse showing habits, share inspired details from equestrian weddings, and help you prepare to host a killer derby party with five drinks to remember. You'll find all this and much, much more in the May/June issue of Untacked.
Plus: Editor's Letter, Editor's Picks, Tech Spotlight, Clothes Horse, Test Lab, Film Review, Feed Room, Parting Ways, Around The Arena, Charity Spotlight and much, much more!
Magazine Writers Guidelines | Guidelines for Results | Guidelines for Art Gallery