Magazine
OCTOBER 24 & 31, 2016
(Subscribers can read the full magazine online.)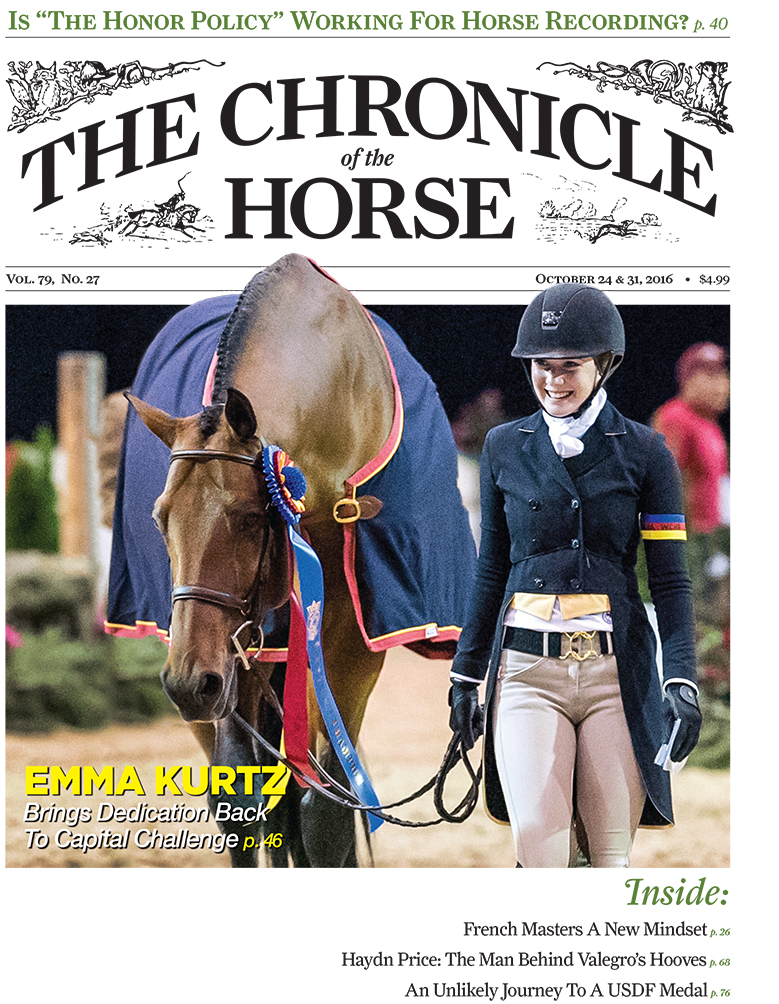 INSIDE: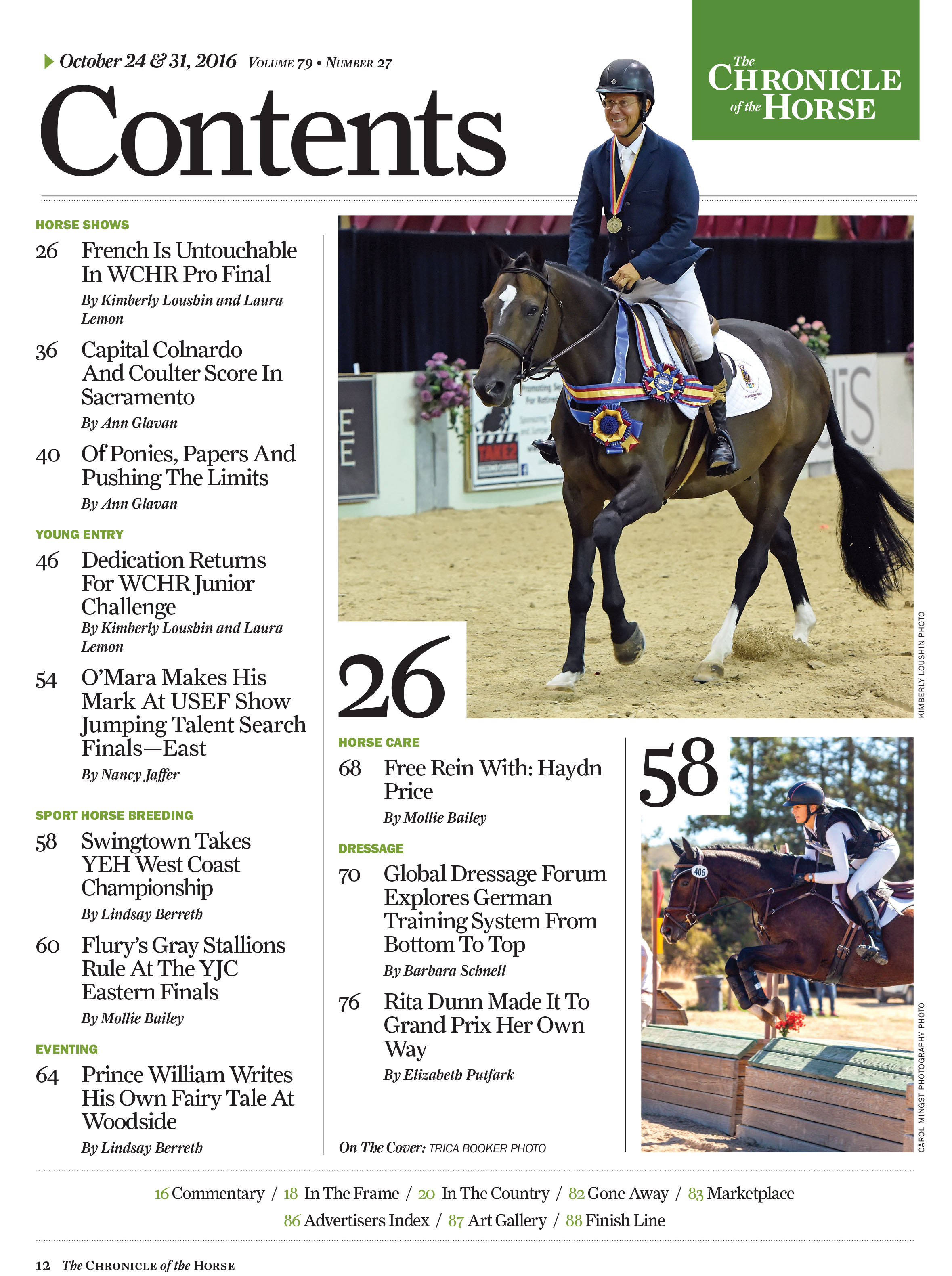 * French Is Untouchable In WCHR Pro Final
The format of the final is tailor-made for French, who spends much of his time catch riding. He won all three rounds, earning identical scores of 90.66 on his borrowed mounts.
* Capital Colnardo And Coulter Score In Sacramento
Audrey Coulter is a young rider setting big goals for her future, and she just took a decisive step toward one of them with a win in the $100,000 Longines FEI World Cup CSI***-W at the Sacramento International Horse Show.
* Of Ponies, Papers And Pushing The Limits
When it comes to USEF registration and measurement cards, is trust enough, or is there a better process?
* Dedication Returns For WCHR Junior Challenge
Between 2011 and 2014, it was hard to beat Dedication. The fancy bay gelding won at all the top shows in the open divisions with Scott Stewart and in the large junior divisions with Tori Colvin. But his last show with Colvin was in May 2014, and then his name wasn't announced in a ring again for more than two years.
* Swingtown Takes YEH West Coast Championship
As head trainer at the busy Inavale Farm in Philomath, Ore., Kelsey Horn often takes multiple horses and students to events, but the week of the Woodside International Horse Trials she had to do a different kind of juggling.
* Prince William Writes His Own Fairy Tale At Woodside
Mary Burke never imagined she'd be competing at advanced when she took up riding 15 years ago after a 17-year break. But when she reached preliminary with her talented off-the-track Thoroughbred Prince William and endured the tragedy of losing her friend and trainer Amy Tryon in 2012, she was spurred to continue on to the upper levels.
* Free Rein With: Haydn Price
Price has been shoeing elite British high-performance horses for more than 20 years. At last month's Rio Olympic Games - his fourth Olympics - he served as the official team farrier for show jumping and dressage, where his charges won individual gold in both sports.
* Rita Dunn Made It To Grand Prix Her Own Way
When 73-year-old Rita Dunn cantered down centerline at River Glen's Dressage By The River on Aug. 8, the pressure was on. She was one score away from her U.S. Dressage Federation gold medal and one score away from becoming the oldest rider in history to earn the coveted honor.
Plus: stories from the Global Dressage Forum and Young Jumper Championship Eastern Final, Commentary, In The Frame, In The Country, Gone Away, Art Gallery, Finish Line, results, photos and much, much more.
September/October Untacked
(Subscribers can read the full magazine online.)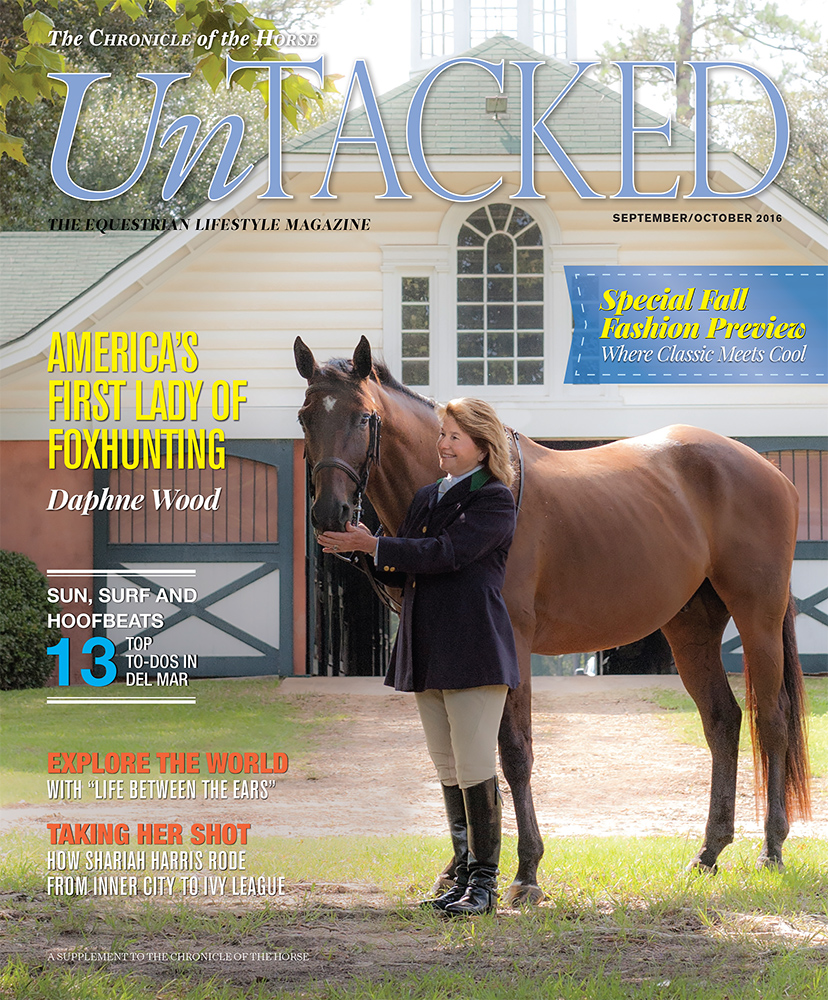 INSIDE:
If you love the great outdoors, you'll want to meet Daphne Wood, the energetic "quintessential Southern lady" and co-founder of the Live Oak Hounds whose passion for hunting around the world is matched by her zeal for land conservation. In Untacked's cover story, find out how her childhood freedom to roam and a devotion to horses and hounds ignited Wood's desire to preserve both the sporting life and the green spaces it requires, and to inspire new generations of riders to join the chase.
You don't have to be Nimrod to host one of autumn's best traditions: the hunt breakfast. We've got you covered with flavors from the United States, Ireland and Great Britain (with a touch of curry from India!).
Get the travel bug with our new department based on the social media phenomenon Life Between The Ears: a regular photo feature with breathtaking images from around the globe, all taken from horseback. We also check into Mexico's magnificent Rancho Las Cascadas in this issue for a ride with Mexico's caballeros. From beachfront to backstretch, we've scouted all the best spots in Del Mar, Calif., for you in our City Guide. And we step back in time at Pebble Beach, one of the equestrian world's most romantic competition venues.
For back-to-school season, we meet an inspiring Cornell University (N.Y.) freshman, Shariah Harris. Philadelphia's Work To Ride polo program helped her ride from the inner city to the Ivy League. And our Fall Fashion Preview sets you up for the cooler season with bold new twists on some classic looks.
There's even more inside the September/October issue of Untacked, at the intersection of equestrian life and style.
Plus: Editor's Letter, Editor's Picks, Tech Spotlight, Clothes Horse, Test Lab, Film Review, Feed Room, Parting Ways, Around The Arena, Charity Spotlight and much, much more!
Magazine Writers Guidelines | Guidelines for Results | Guidelines for Art Gallery