Magazine
DECEMBER 12, 2016
(Subscribers can read the full magazine online.)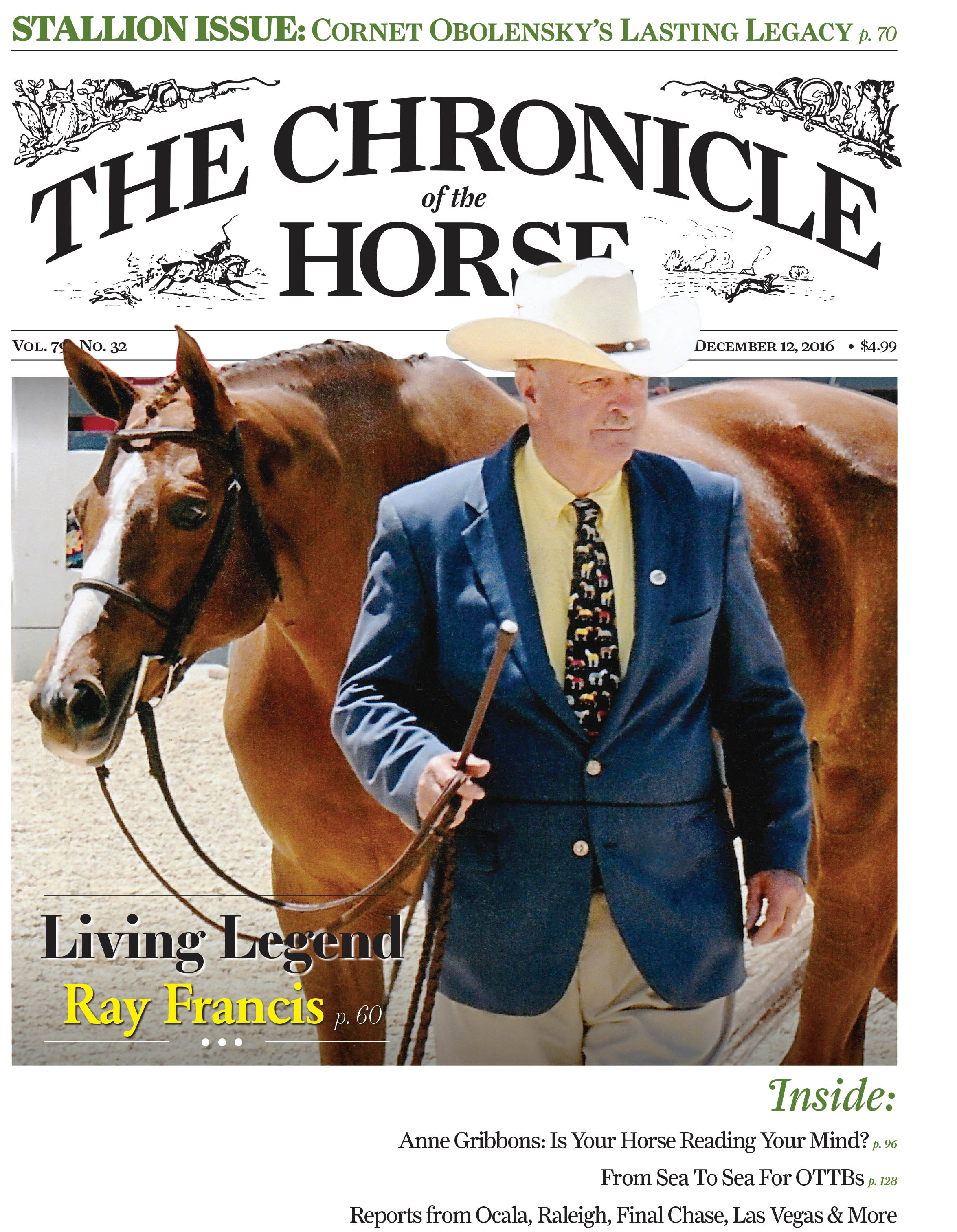 INSIDE: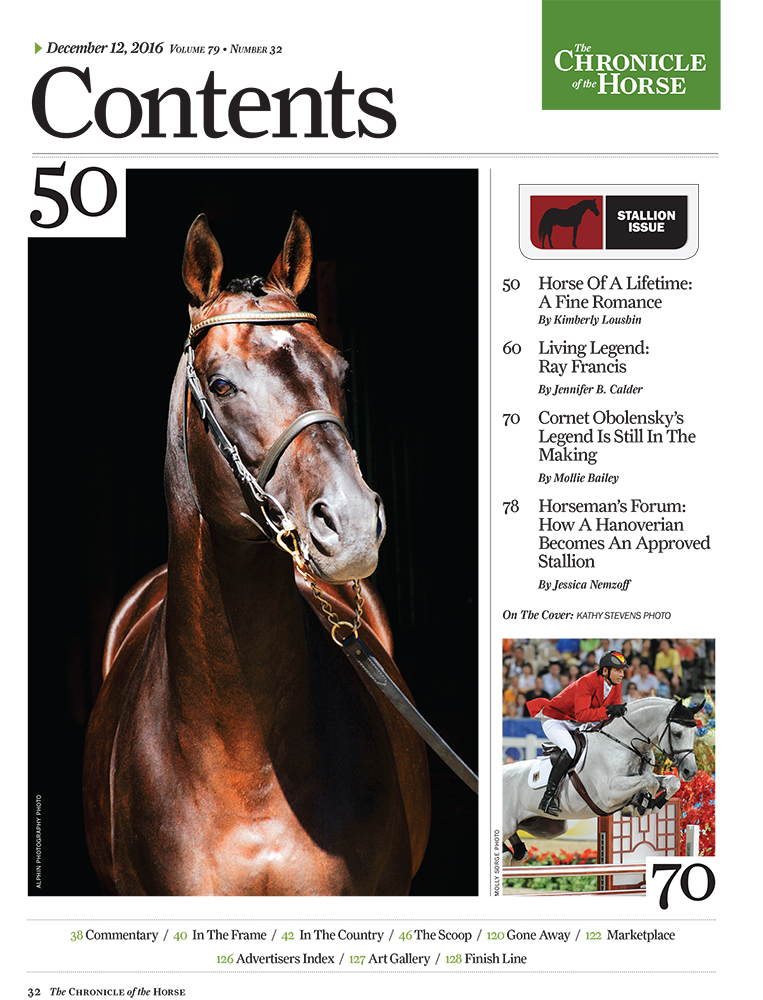 * Horse Of A Lifetime: A Fine Romance
For 25 years Gail Parker Rogers' life revolved around a homebred Thoroughbred stallion she never intended to keep.
* Living Legend: Ray Francis
For decades, he's been a father figure to riders and equines alike as an exhibitor, trainer, judge, steward and stalwart of hunter breeding.
* Cornet Obolensky's Legend Is Still In The Making
The first time that Marco Kutscher took Cornet Obolensky to a horse show, they didn't exactly look like the future champions they would become.
* Horseman's Forum with Jessica Nemzoff: How A Hanoverian Becomes An Approved Stallion
One U.S. rider got a front-row seat for the German process of licensing and approving breeding stallions.
* Brown Rebounds To Win At Inaugural Ocala Jockey Club International
In July, Matt Brown wrote in his blog on www.coth.com: "After returning home from a deeply disappointing personal performance at Aachen, where I felt I let the team and my horse down, I will take the rest of the summer and fall, and frankly as long as it takes, to regroup, train harder, smarter and better."
* Between Rounds with Anne Gribbons: Horses, Hurricanes And Instinct
Our columnist considers some of the amazing abilities our horses demonstrate.
* Rice Scores First USHJA International Derby Win At Final Chase
Sarah Rice didn't have the perfect preparation leading up to the Final Chase $10,000 USHJA International Hunter Derby. For starters, riding with a broken arm is never anyone's plan. Then there was the horse she was riding.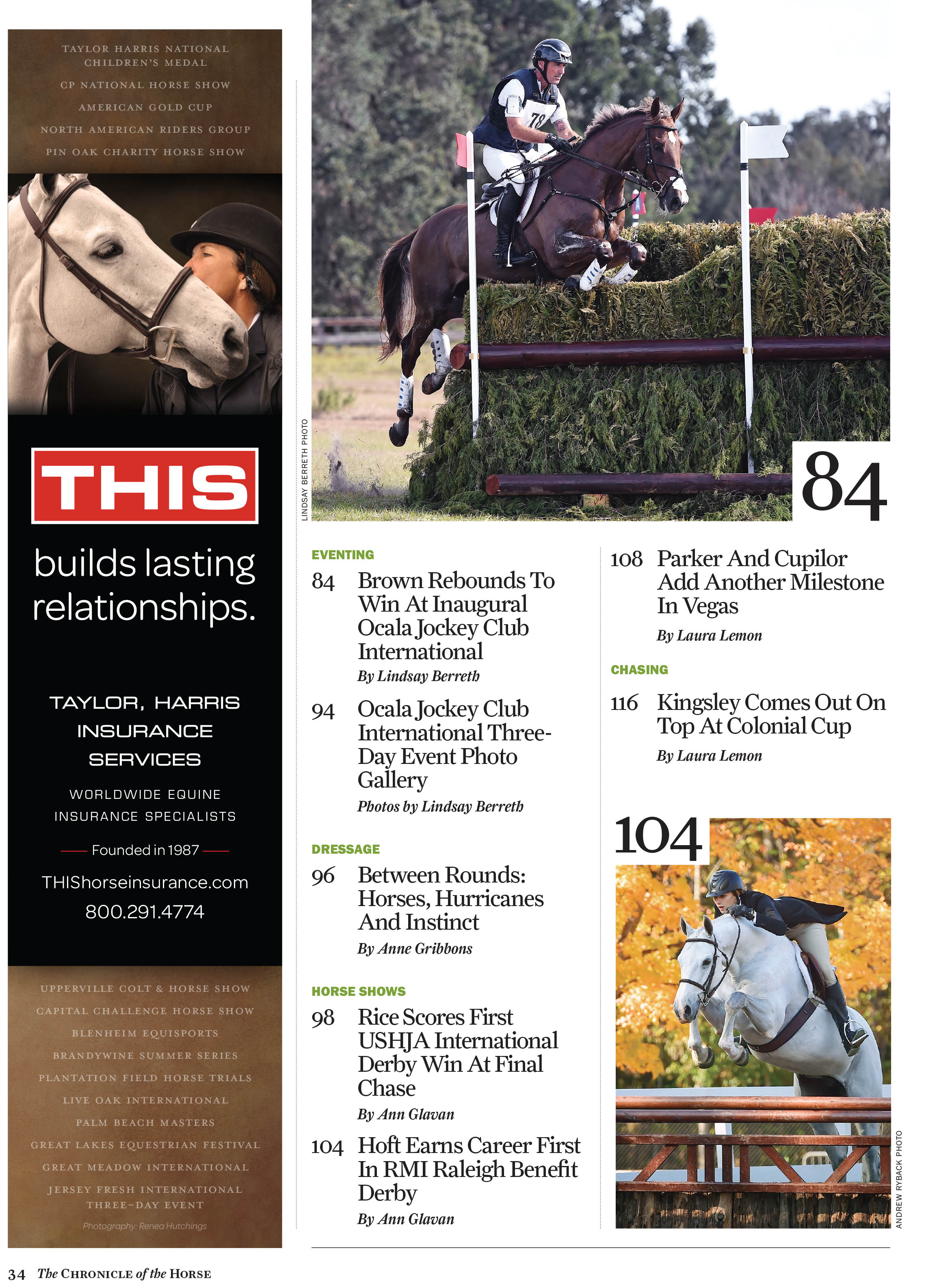 * Hoft Earns Career First In RMI Raleigh Benefit Derby
Devney Hoft wasn't sure she was sitting on the horse to beat when she entered the $10,000 USHJA International Hunter Derby at the RMI Raleigh Benefit Horse Show (N.C.). Zetterberg was totally unproven at the international hunter derby level. He had never shown in one, and 22-year-old Hoft hadn't ever won one.
* Parker And Cupilor Add Another Milestone In Vegas
Winning the Young Jumper Championships Western League Finals as a 6-year-old? Check. Winning the next year in the 7- and 8-year-old division? Check. Now Michelle Parker and Cupilor have checked off another milestone: winning the final of the $61,850 Markel Insurance 1.40m Grand Prix Series at the Las Vegas National Horse Show.
* Kingsley Comes Out On Top At Colonial Cup
Twice before Arch Kingsley Jr. had entered the winner's circle atop a horse at the Springdale Race Course in Camden, S.C., to accept the prize in the Colonial Cup. But on Nov. 19, he walked in to greet Top Striker and jockey Ross Geraghty as the winning trainer.
Plus: Commentary, In The Frame, In The Country, Gone Away, Art Gallery, Finish Line, results, photos and much, much more.
November/December Untacked
(Subscribers can read the full magazine online.)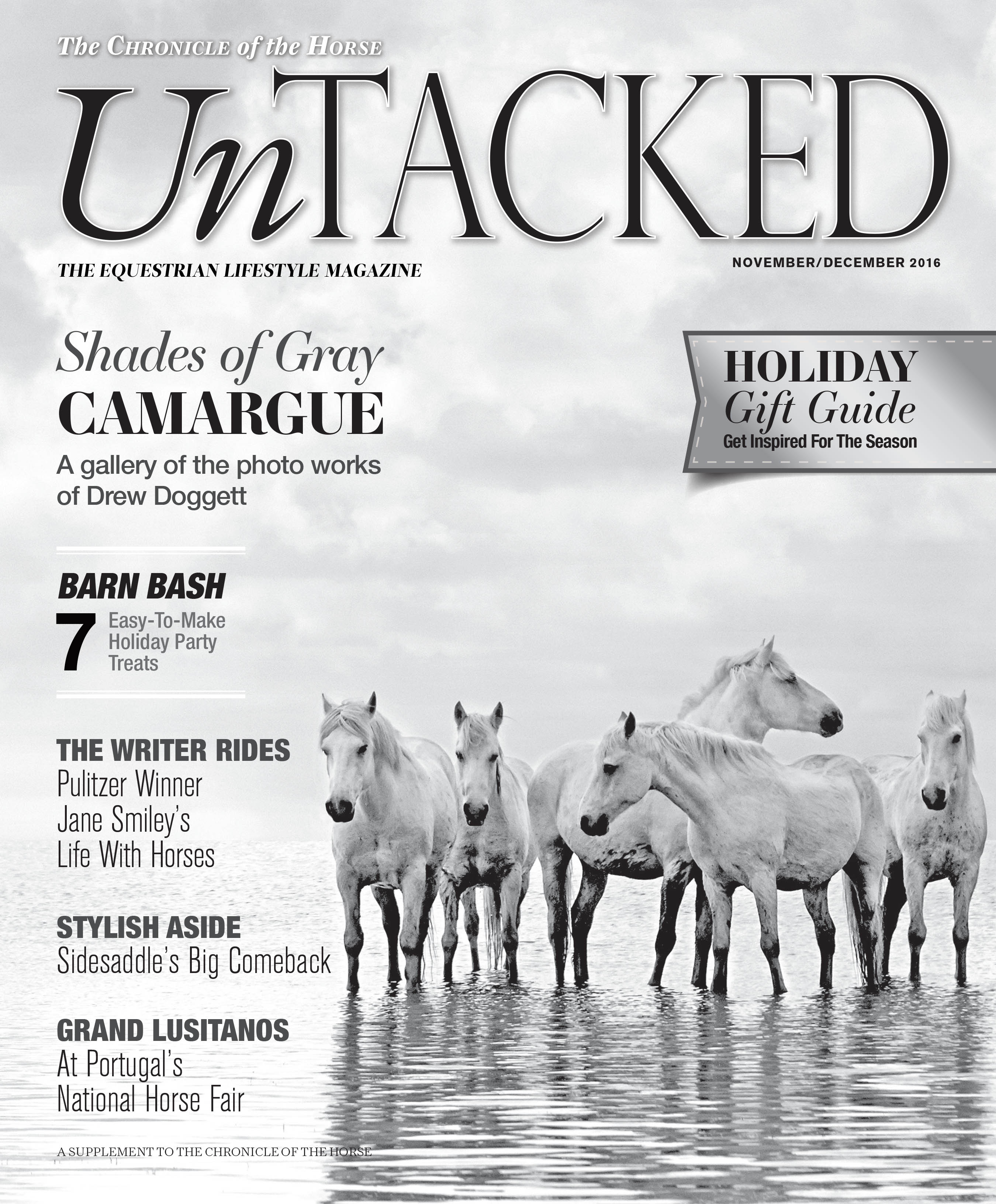 INSIDE:
Get ready to go places this winter with the November/December issue of Untacked. In our cover story, photographer Drew Doggett spirits you off to France's otherworldly Camargue region, where the famed free-roaming "white horses of Camargue" gallop through the marshes.
Photographer Bianca McCarty, meanwhile, explores the cobbled streets of the Portuguese village that turns itself over to Iberian horses and horsemen every November for an exotic and colorful national horse fair, which is about business as much as pleasure.
If winter's chill brings you down, check out the Sporthorse Cruise, which combines a tropical escape with equestrian education in the form of onboard seminars about everything from conformation to course design.
Need some holiday gift-giving inspiration for the equestrians in your life? We've got you covered—from the ultra-practical to the glamorous—with our Holiday Gift Guide.
You'll also meet a new generation of sidesaddle riders who are promoting a resurgence of (and new respect for) this elegant, old-school riding style; Pulitzer-winning author Jane Smiley, who was a rider before she became a writer; artist Lisa Marie Bishop, an accomplished rider who hasn't let an eye disease keep her out of the saddle; and you'll gain a new perspective on "peak fitness" from Sarah Hansel.
There's even more inside the November/December issue of Untacked, at the intersection of equestrian life and style.
Plus: Editor's Letter, Editor's Picks, Tech Spotlight, Clothes Horse, Test Lab, Film Review, Feed Room, Parting Ways, Around The Arena, Charity Spotlight and much, much more!
Magazine Writers Guidelines | Guidelines for Results | Guidelines for Art Gallery