Magazine
JULY 25, 2016
(Subscribers can read the full magazine online.)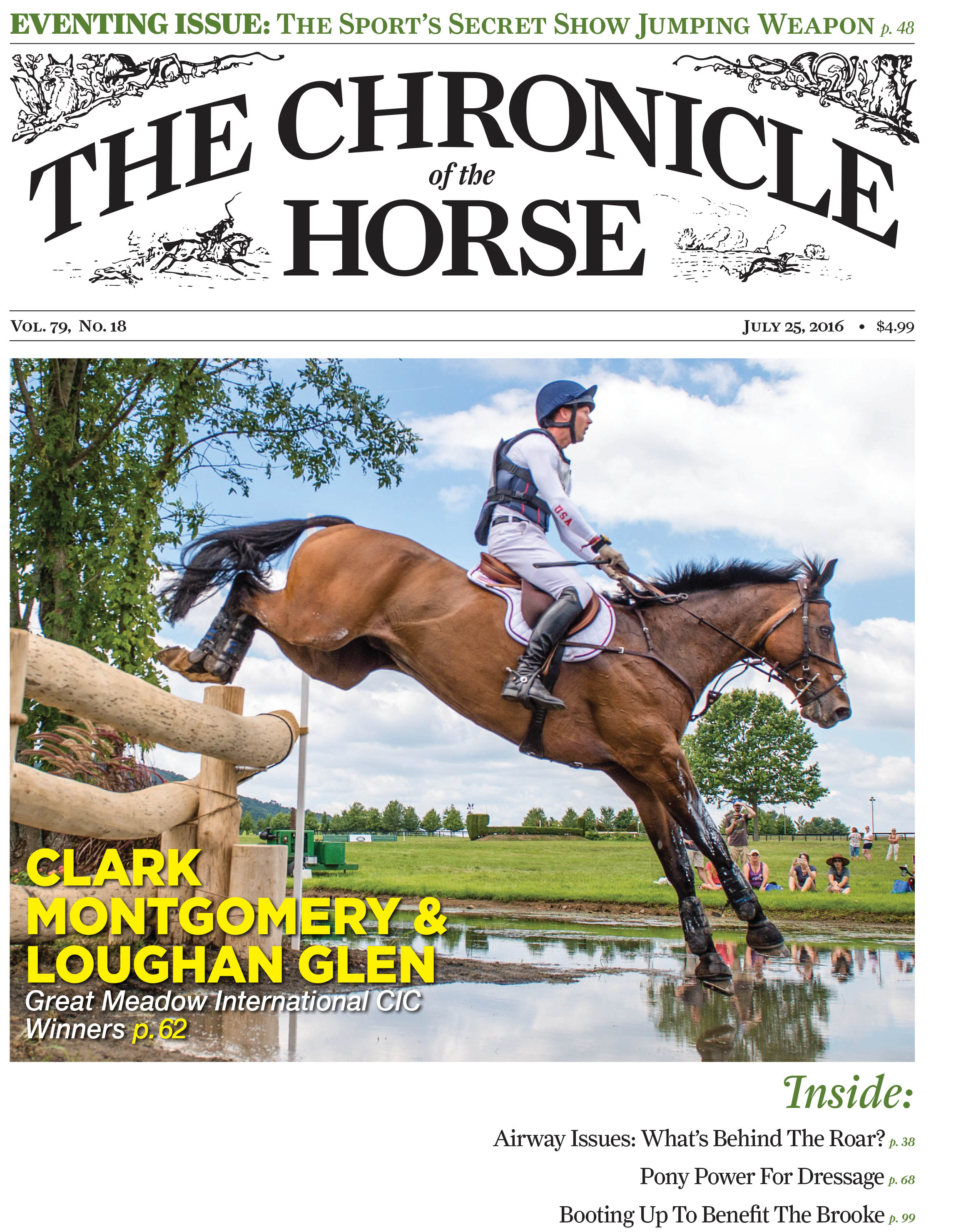 INSIDE: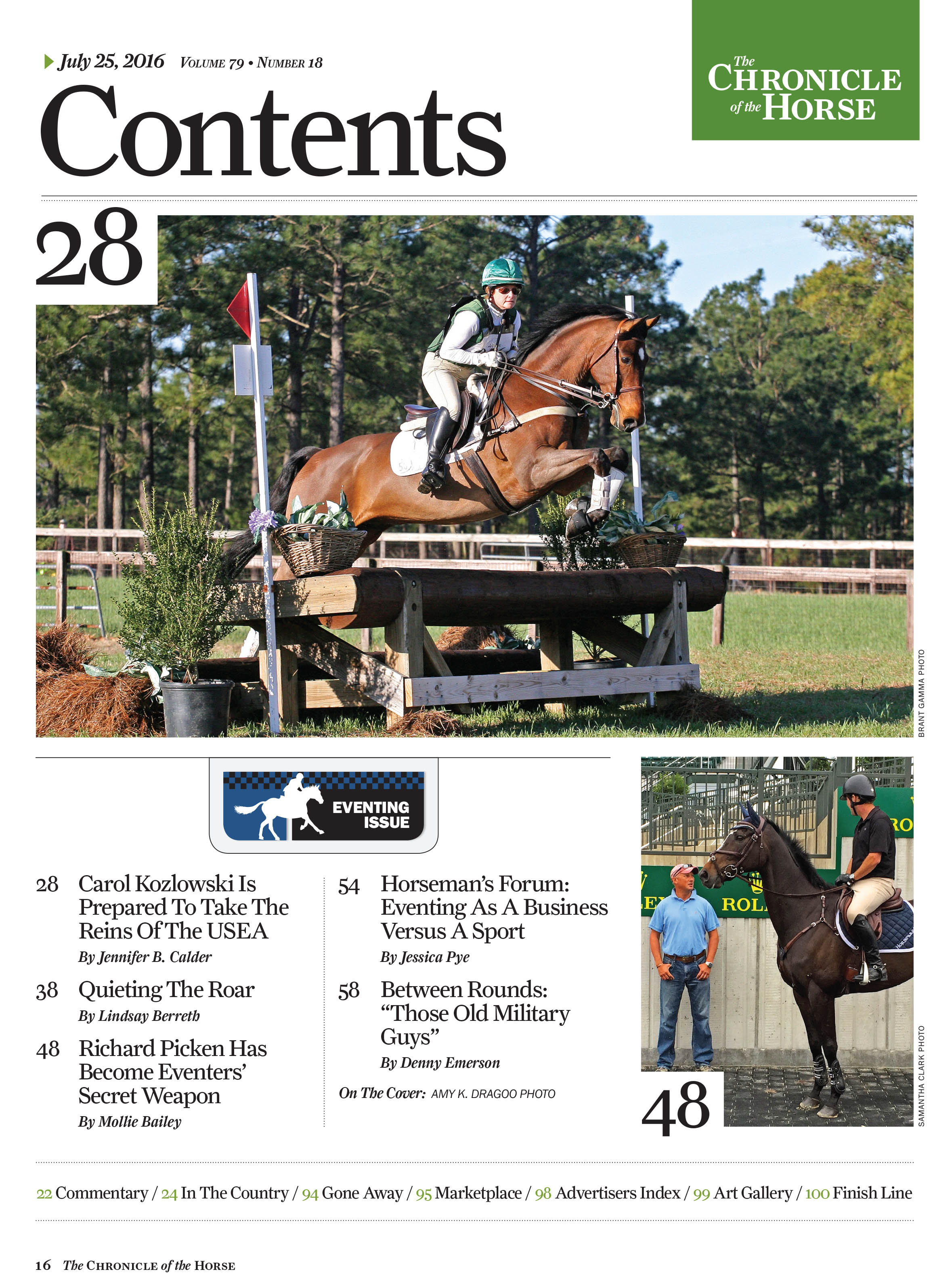 * Carol Kozlowski Is Prepared To Take The Reins Of The USEA
This eventer funnels a lifetime of experience - from competing at the highest levels, to teaching and volunteering, and, perhaps most importantly, learning how to disagree—into her new role.
* Quieting The Roar
Laryngeal hemiplegia and dorsal displacement of the soft palate can cause an unattractive noise and make it difficult for hard working horses to do their job, but lots of different treatments exist.
* Richard Picken Has Become Eventers' Secret Weapon
When it comes to finding a coach for the final day of competition, eventers have their choice of a slew of big-name show jumping experts. But more and more riders are turning to one horseman who's helping them get big results: Richard Picken.
* Horseman's Forum with Jessica Pye: Eventing As A Business Versus A Sport
The author explains the frustrations that led her to decide to become an amateur eventer rather than remain a professional.
* Between Rounds with Denny Emerson: "Those Old Military Guys"
Our columnist reflects on the people and traditions behind the root of our sport - and what they have in common with riders today.
* Montgomery Leads Team USA To Nations Cup Win At Great Meadow
After spending the last four years in England, Clark Montgomery earned his spot on the U.S. team for the upcoming Olympic Games in Rio with consistent performances abroad. But Great Meadow was his first opportunity to compete head-to-head with his Olympic teammates and those he'd beaten for a slot on the team. He felt pressure to prove himself on home soil in front of an American crowd.
* National Dressage Pony Cup Puts Petite Performers In The Spotlight
The riders who came from 23 states aboard ponies representing 16 breeds and registries weren't there just to look cute: They were pursuing $15,000 in prize money and championship honors as well as special high-point, freestyle, and breed awards from intro to Grand Prix.
* Stories from Spruce Meadows (Alberta), Summer in the Rockies (Colo.), Lake Placid (N.Y.) and the Brandywine International Hunter Derby.
Plus: In The Country, In The Frame, Finish Line, Gone Away, Art Gallery, photo galleries, results and much more.
July/August Untacked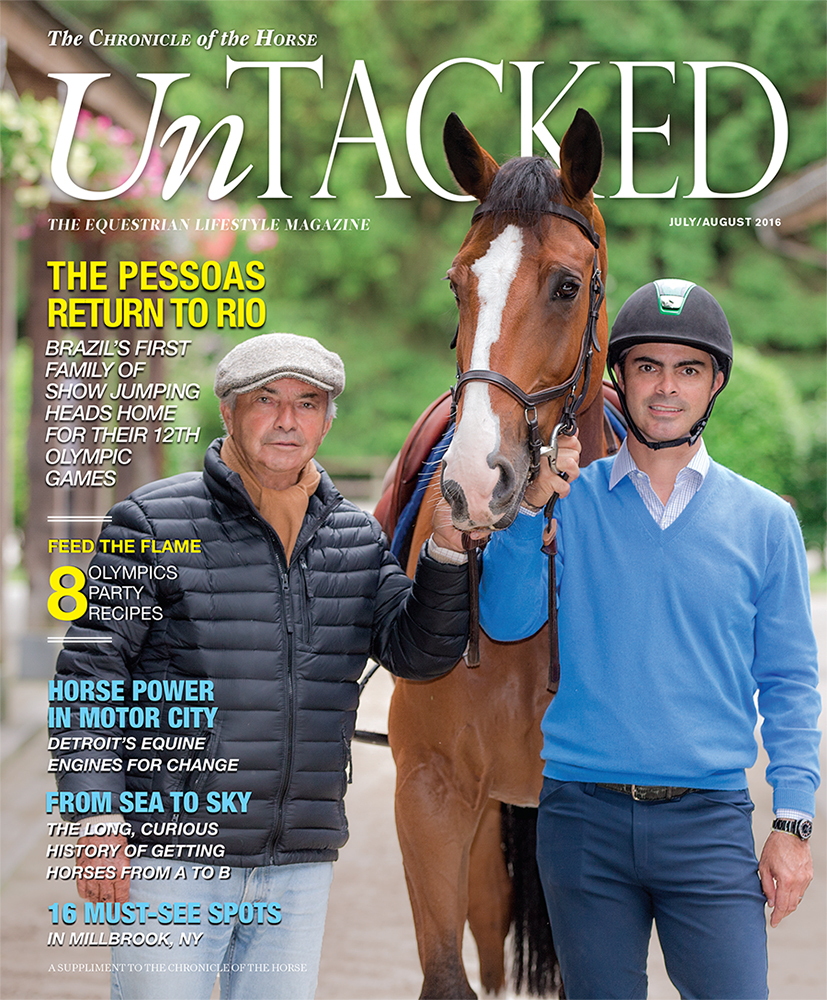 INSIDE:
We're just weeks away from the 2016 Olympic Games in Rio de Janeiro, and who better to heat up Olympic fever than Brazilian show jumping icons Nelson "Neco" Pessoa and his son Rodrigo? Untacked takes you all the way back to Neco's uncertain start at a military riding school in Rio, the origin of the Pessoas' influential legacy, and we meet the close-knit family outside the show ring to learn what drives this remarkable father and son.
No matter who you're rooting for at the Olympics, we've got your party solution with Brazilian and American food and drinks recipes. We also visit Detroit, where eventer-turned-teacher David Silver is using horses and horsemanship to help revitalize the inner city, and we head to the Wild West for some equine-inspired "glamping" trips that will satisfy those childhood cowboy dreams. And we discover the curious and fascinating history behind transporting equines from point A to point B.
If all that puts you in a road-trip mood, join us for a tour of Millbrook, N.Y.,'s best spots for reading, relaxing, getting back to nature or shopping in town. Along the way, meet an artist in the Pacific Northwest who calls on her veterinary career for her paintings and illustrations. And we consider a number of fitting final tributes for our equine partners. You'll find all of these stories and so much more in the July/August issue of Untacked, at the heart of equestrian life.
Plus: Editor's Letter, Editor's Picks, Tech Spotlight, Clothes Horse, Test Lab, Film Review, Feed Room, Parting Ways, Around The Arena, Charity Spotlight and much, much more!
Magazine Writers Guidelines | Guidelines for Results | Guidelines for Art Gallery