Magazine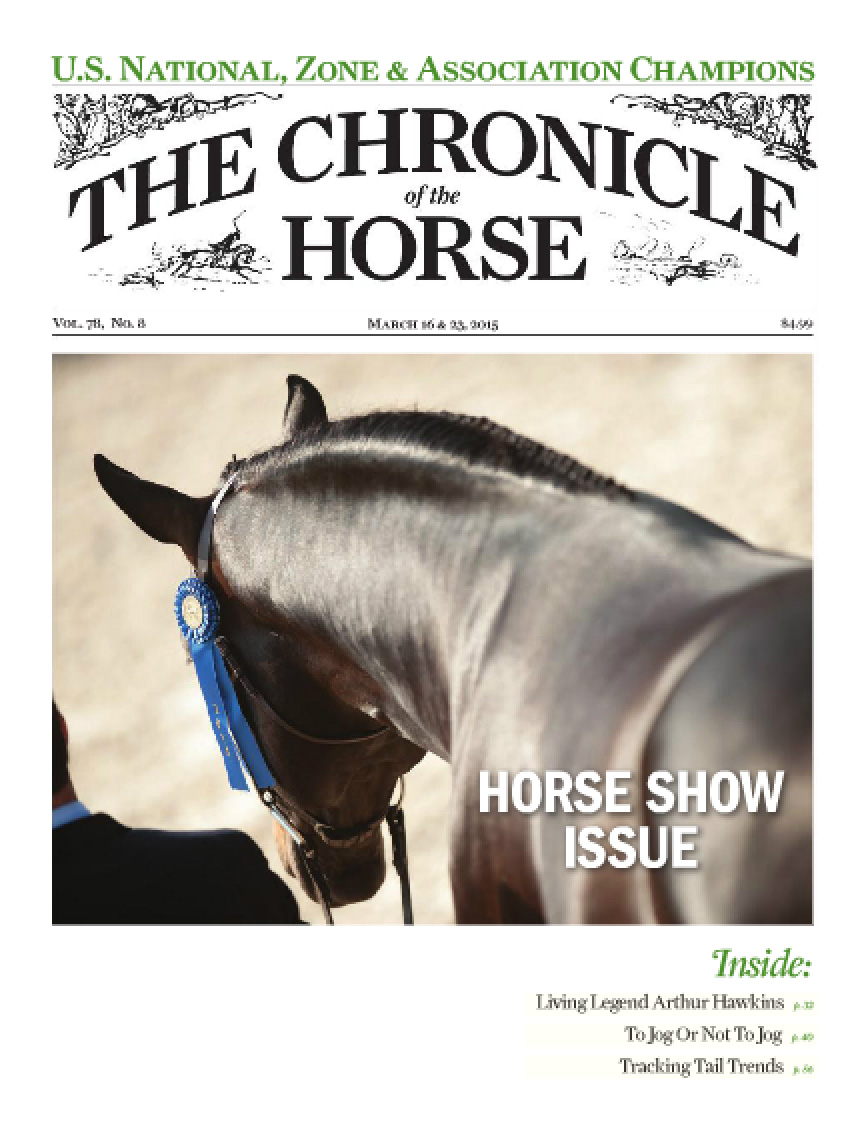 The March 16 & 23 issue of The Chronicle of the Horse is the Horse Show Issue...
Commentary by Beth Rasin: Some Things Never Change
The Horse Show Issue is one of the most enduring and traditional issues of the Chronicle's yearly schedule. Editor Beth Rasin looked back at the Horse Show Issue from 50 years ago and while the names have changed, the inclusion of winners at all levels hasn't. (Subscribers can read more.)
In The Country
Sweet Briar College Announces Closure; USDA Grants Conditional License For Pigeon Fever Vaccine; The Chronicle Is Seeking Talented Writers; Hermes USA Announces Young Rider Award; MFHA Announces Two New Registered Hunts; USET Foundation Elects New Officers And Trustees. (Subscribers can read more.)
Living Legend: Arthur Hawkins
He's best known as the creator of the modern numerical judging system in hunter classes, but this third-generation horseman has served as a positive force behind the scenes in the industry for decades. (Subscribers can read more.)
Are Hunters Jogging Into The Future Or The Past?

Jogging for ribbons is a regular part of the show day, but is this tradition still useful? We asked industry experts to find out if they think jogging is an essential practice or outdated(Subscribers can read more.)
Tales From The Trainers' Trenches
Tom Brennan, Donna Cheney, Matt Cyphert, Jim Hagman and Sandra Ruiz share some of their most amusing tales from the judge's stand. (Subscribers can read more.)
Presenting The U.S. Equestrian Federation Horse Of The Year National Champions
We caught up with all of the USEF National Champions about their highlights, first impressions and personalities. (Subscribers can read more.)
2014 Zone and Association Champions
Photos and results of all the USEF zone champions and winners in local associations. (Subscribers can read more.)
Minikus Leads Clean U.S. Sweep Of Nations Cups
U.S. riders had a great weekend at Nations Cup week of the Winter Equestrian Festival, led by Todd Minikus on the young and talented Babalou 41. We covered not only the senior Nations Cup but also the young rider, junior and children's editions. (Subscribers can read more.)
Between Rounds With Larry Langer: We're Lacking Education

Read a book. Attend a clinic. Make learning part of the horse show culture. (Subscribers can read more.)
Everready II Is Evergreen At Twin Rivers
Barbara Carbo's homebred took a few years away from the advanced level due to soundness issue, but he's back in fighting form. "I feel like he was kind of reborn, and he's just getting better with age and more reliable," Crabo said. (Subscribers can read more.)
And, in the March/April issue of Untacked...
Editor's Letter by Kat Netzler: Life Lived Organically
Netzler explores how the stories in this issue prove that life doesn't always take us where we planned, and that's sometimes a very good thing. "We all want to feel in control of our own destinies. But in the midst of our overscheduled, overstressed and overstimulated grind, we're pushing the joys of spontaneity further and further into the periphery," she writes. (Subscribers can read more.)
Tech Spotlight: Polar Equine V800 Heart Rate Monitor
Heart rate monitors like the Polar Equine V800 can help riders hone their horses' fitness regimens at home, but they're not dummy-proof just yet. (Subscribers can read more.)
Test Lab: Non-Slip Pads Put Through Their Paces
A well-fitting saddle is key in any discipline, but sometimes you need a little extra security. Two staffers put some no-slips to the test. (Subscribers can read more.)
Editor's Picks: Kingsland Dressage Dali Advancd Training Jacket
Can a jacket truly be warm and easy to ride in? We found out. (Subscribers can read more.)
The Clothes Horse: 2015 In Technicolor
Our preview of the upcoming spring and summer lines from all your favorite equestrian brands reveals plenty of exciting new textures and patterns, but it's bold, beautiful colors that are really takng center stage and turning heads. (Subscribers can read more.)
The Perpetual Reinvention Of Sally Ike
From training horses to the highest level to fielding gold-medal teams to paving a path for future generations, this quiet horsewoman has left a lasting mark on U.S. horse sports. And she isn't done yet. (Subscribers can read more.)
Passion Play
Florence Flameng was born with an innate artistic talent and a love for the horse. More than 50 years later, she's now parlayed those passions into a magnificant career—thanks to a kind-hearted butcher, a famous French artist and a Belgian show jumper. (Subscribers can read more.)
The Maryland Hunt Cup: Where Tradition Always Wins
America's toughest steeplechase is a showcase of gritty endurance surpassed only by the tenacity of the 121-year-old race itself. (Subscribers can read more.)
Cover Story: Tripping The Light Fantastic
If you can't find top hunter rider Sandy Ferrell at the barn, your next best bet is the ballroom. in heels, feathers and sequins. (Subscribers can read more.)
Global Culture: On Foot Or By Hoof, The Fading History Of The Tea Horse Road
For more than 1,400 years, one treacherous trail facilitated commerce between two great cultures, but it's fading quickly into obscurity. (Subscribers can read more.)
Travel: Where Boot Camp Meets Paradise
Can riding beautiful horses in a beautiful setting equal beautiful riding? It's certainly worth a try at La Patrona, Mexico's newest equestrian holiday destination. (Subscribers can read more.)
Travel: A Nomad's World, Crossing Kyrgyzstan On Horseback
There's an old Kyrgyz saying: "On the long road, you may judge your horse." And for three months in the wild solitude, this rider knew it was also where her horse would judge her. (Subscribers can read more.)
Photo Feature: Charleston By Carriage
A glimpse into a controversial industry in one of America's most scenic cities. (Subscribers can read more.)
A Culinary Bucket List For Lexington
Kentucky is horse capital of the United States and equestrian enthusiast flock to the city of Lexington from all over the country for the Rolex Kentucky Three-Day Event, Thoroughbred racing and horse shows. We found the best places to explore the cuisine—from quick and easy delis to gourmet fare. (Subscribers can read more.)
Charity Spotlight: A Closer Look At Save The Horses
This non-profit's Barn Buddy program builds bonds between children and rescued horses. (Subscribers can read more.)
Magazine Writers Guidelines | Guidelines for Results | Guidelines for Art Gallery