Magazine
AUGUST 15 & 22, 2016
(Subscribers can read the full magazine online.)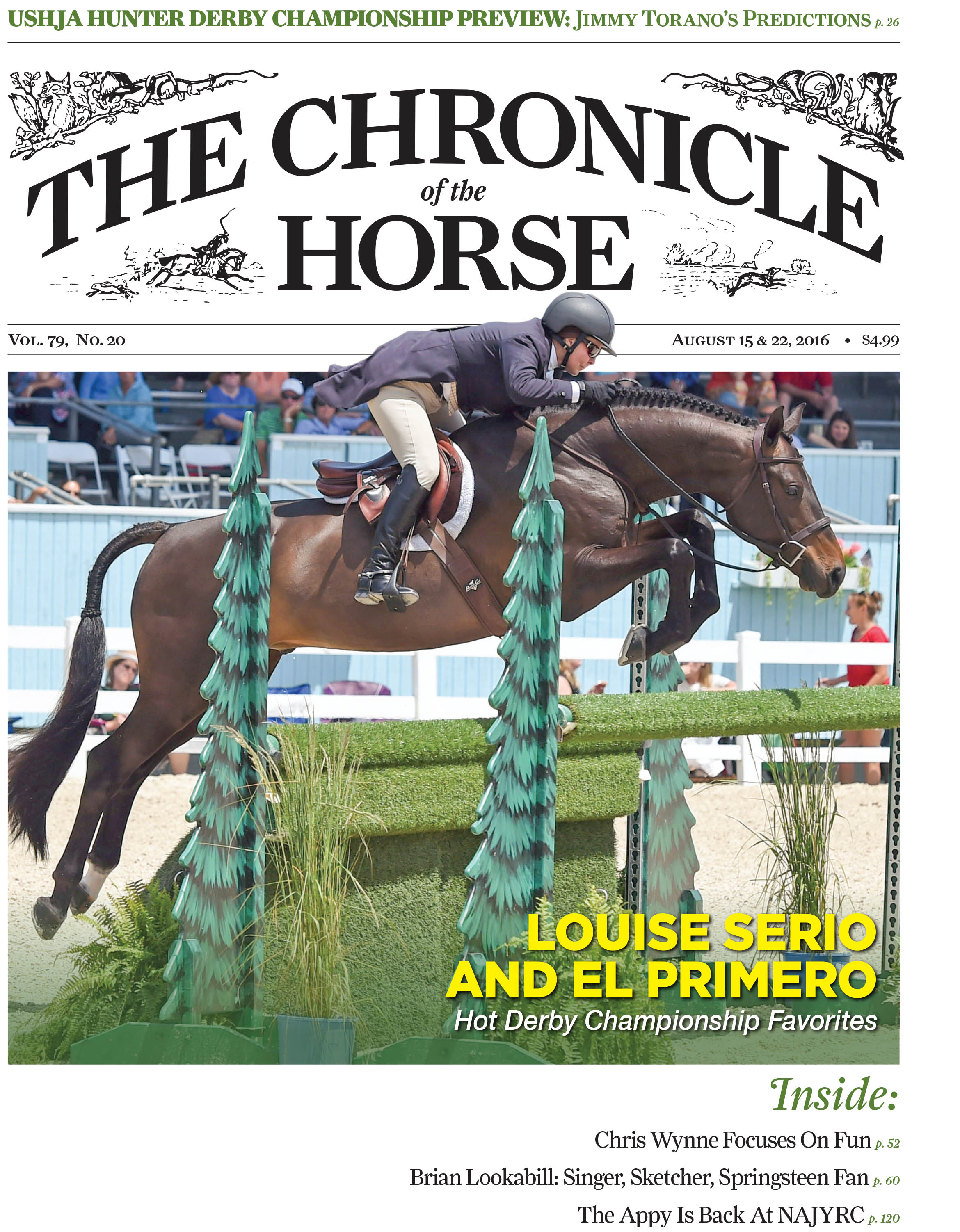 INSIDE: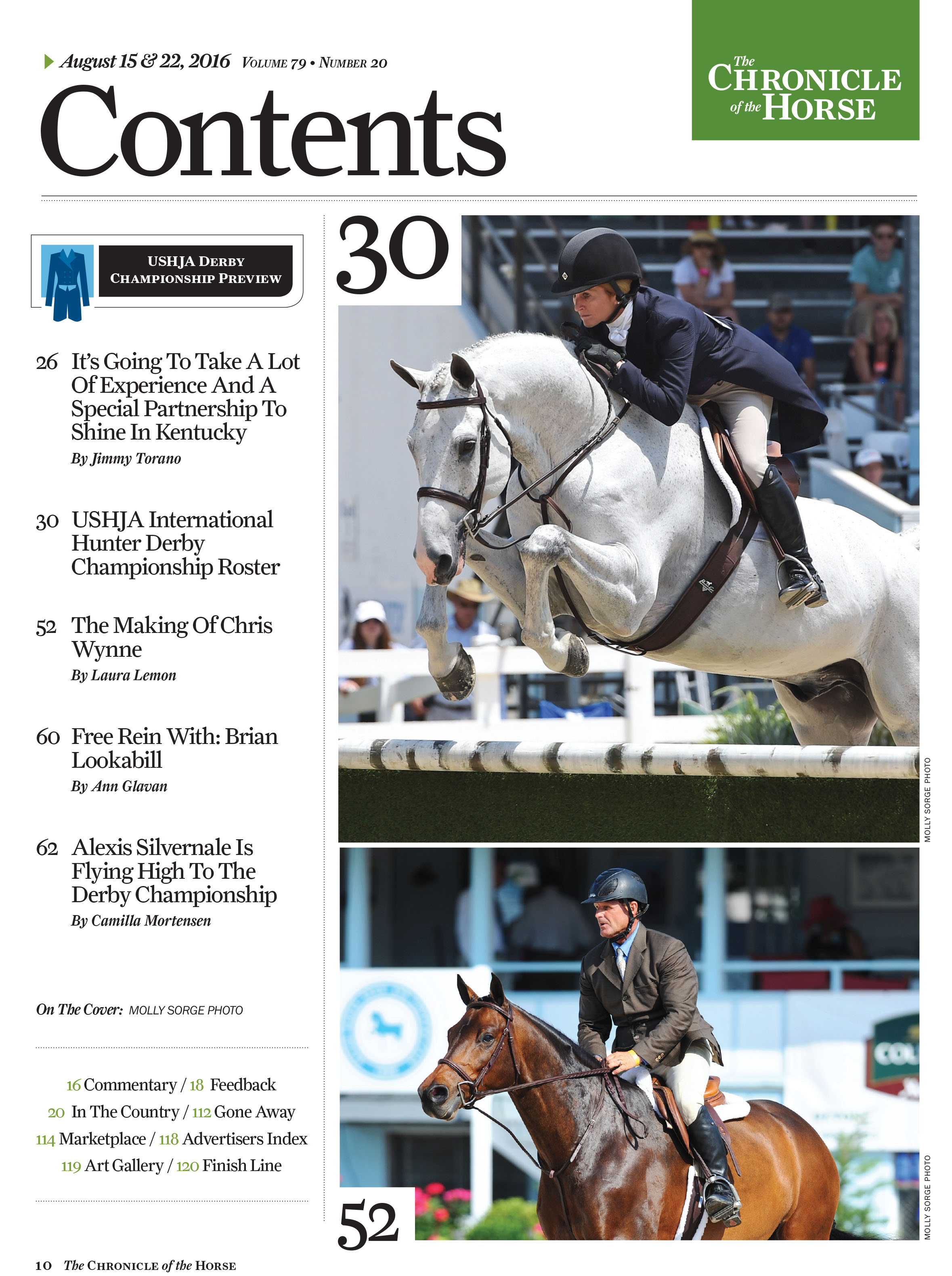 * It's Going To Take A Lot Of Experience And A Special Partnership To Shine In Kentucky
Veteran derby judge and competitor Jimmy Torano weighs in on what to expect at this year's championship.
* USHJA International Derby Championship Roster
* The Making Of Chris Wynne
Students love this USHJA International Hunter Derby Championship judge who has worked to forge his own way in the industry, with an emphasis on fun.
* Free Rein With: Brian Lookabill
He sings, he sketches, he spends his spare time restoring old cars. He is horse show announcer Brian Lookabill, the voice of the USHJA International Hunter Derby Championship since the competition's inception in 2009.
* Alexis Silvernale Is Flying High To The Derby Championship
Aboard Skyhawk, she's preparing for the biggest event of her young professional career.
* Bowie Gets A Perfect Derby Championship Prep In Traverse City
In her final show before taking Fleur de Lis Farms' top hunter to Lexington, Ky., for the USHJA International Hunter Derby Championship, Courtney Calcagnini wanted to give her veteran partner the perfect prep. She knew she would get it over the Tom Hern-designed track, which featured two spooky lines of natural brush and hay bales, maximum-height high options, and long, loose lines.
* Maplewood Horse Industry Training Program Takes First Step Toward College Accreditation
Julie Winkel is helping to pave the way for aspiring horse industry professionals.
* Simpson Goes All Gold In Show Jumping
Sophie Simpson is no newcomer to the rigors of the Adequan/FEI North American Junior and Young Rider Championships. She's gone to the finals four times aboard a quirky, feisty chestnut mare named Why Not.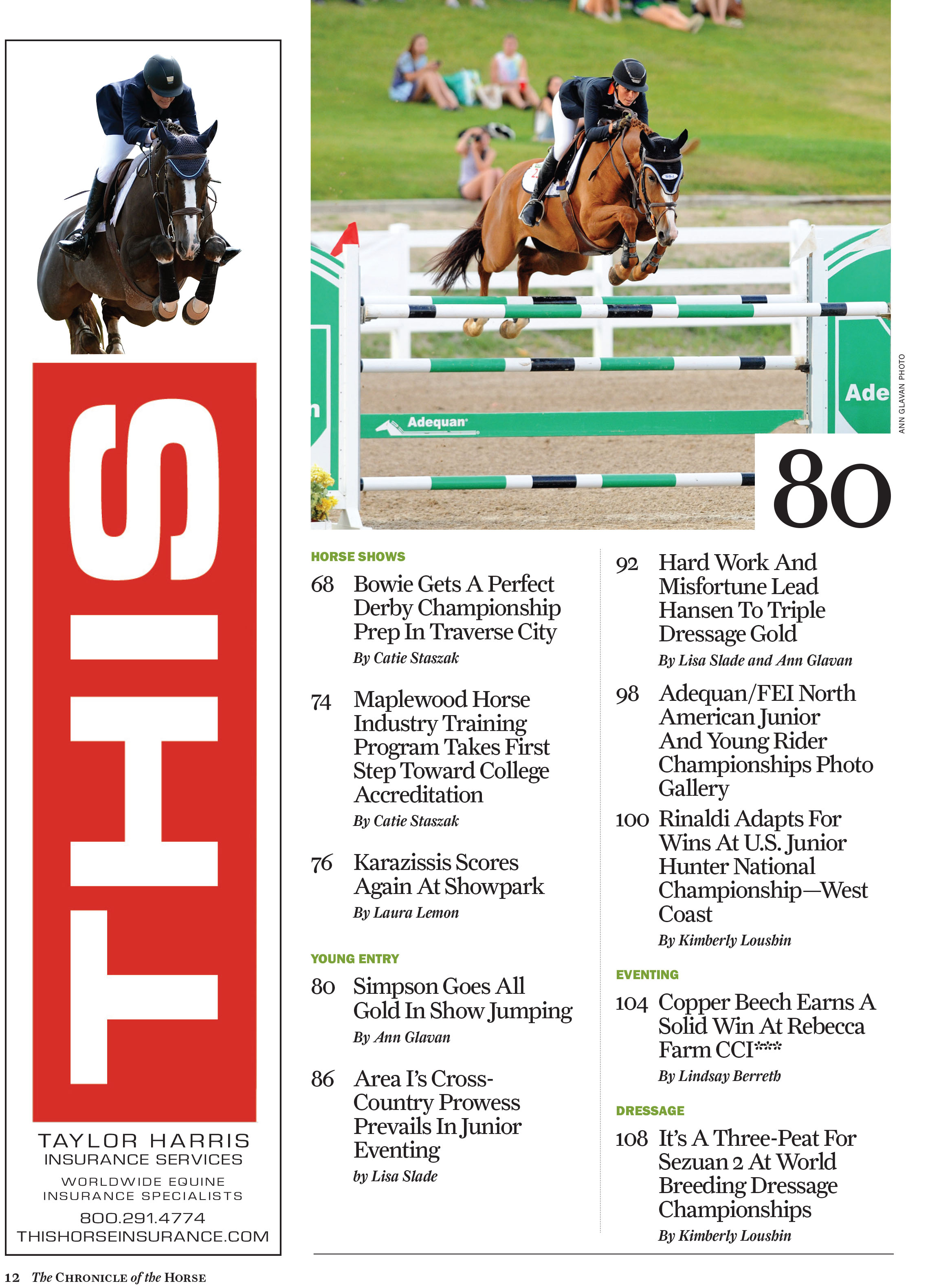 * Area's I's Cross-Country Prowess Prevails In Junior Eventing
When the dressage scores were calculated and the horses were tucked in for the night before the cross-country at the Adequan/FEI North American Junior and Young Rider Championships, the Area I junior team wasn't even in the top three. But the riders weren't concerned. They knew their best phases were still to come.
* Hard Work And Misfortune Lead Hansen To Triple Dressage Gold
Strange as it might sound, Nicholas Hansen owes his three Adequan/FEI North American Junior and Young Rider Championships gold medals to an injured event horse.
* Copper Beech Earns A Solid Win At Rebecca Farm CCI***
Buck Davidson will jokingly admit that many of Copper Beech's best placings have been out of sheer luck, but when he led the victory gallop at The Event At Rebecca Farm CCI***, Davidson knew the win was earned after several years of hard work.
* Stories from World Breeding Dressage Championships (the Netherlands) and the U.S. Junior Hunter National Championship-West (Calif.).
Plus: In The Country, In The Frame, Finish Line, Gone Away, Art Gallery, photo galleries, results and much more.
July/August Untacked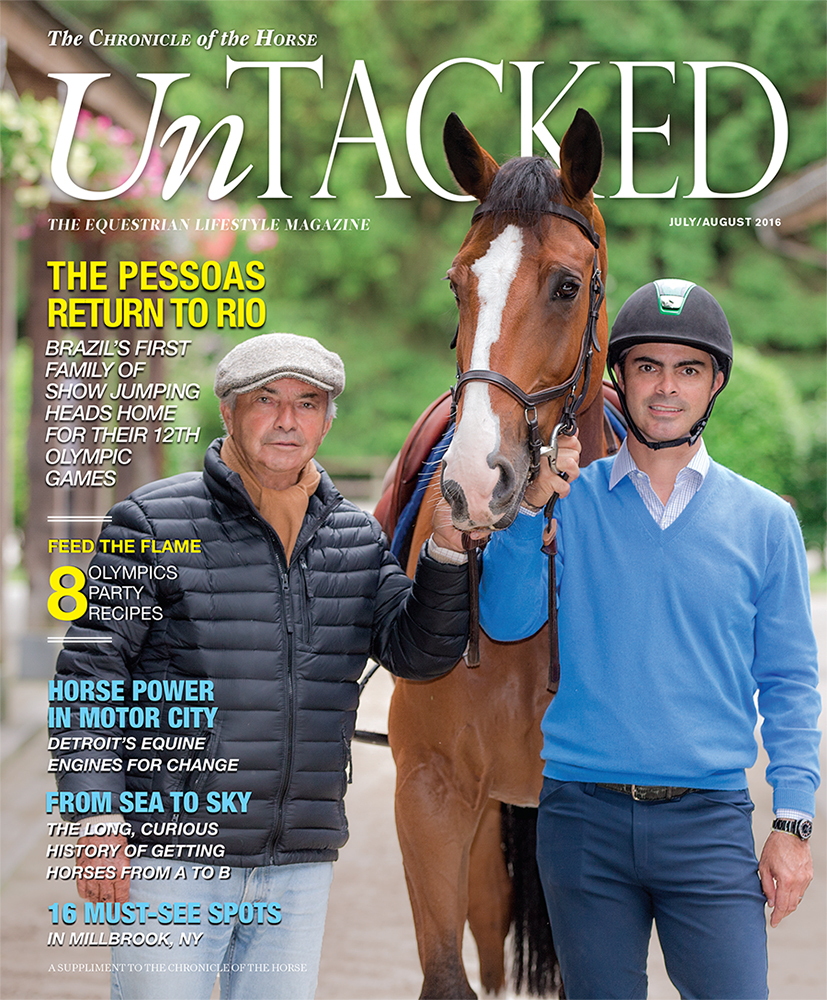 INSIDE:
We're just weeks away from the 2016 Olympic Games in Rio de Janeiro, and who better to heat up Olympic fever than Brazilian show jumping icons Nelson "Neco" Pessoa and his son Rodrigo? Untacked takes you all the way back to Neco's uncertain start at a military riding school in Rio, the origin of the Pessoas' influential legacy, and we meet the close-knit family outside the show ring to learn what drives this remarkable father and son.
No matter who you're rooting for at the Olympics, we've got your party solution with Brazilian and American food and drinks recipes. We also visit Detroit, where eventer-turned-teacher David Silver is using horses and horsemanship to help revitalize the inner city, and we head to the Wild West for some equine-inspired "glamping" trips that will satisfy those childhood cowboy dreams. And we discover the curious and fascinating history behind transporting equines from point A to point B.
If all that puts you in a road-trip mood, join us for a tour of Millbrook, N.Y.,'s best spots for reading, relaxing, getting back to nature or shopping in town. Along the way, meet an artist in the Pacific Northwest who calls on her veterinary career for her paintings and illustrations. And we consider a number of fitting final tributes for our equine partners. You'll find all of these stories and so much more in the July/August issue of Untacked, at the heart of equestrian life.
Plus: Editor's Letter, Editor's Picks, Tech Spotlight, Clothes Horse, Test Lab, Film Review, Feed Room, Parting Ways, Around The Arena, Charity Spotlight and much, much more!
Magazine Writers Guidelines | Guidelines for Results | Guidelines for Art Gallery