What's one way to impress a new owner? Win a big grand prix right off the bat. British rider Ben Maher did just that on Feb. 2 when he rode Jane Clark's Cella to the top of the $100,000 Fidelity Investments Grand Prix (see results) at the FTI Winter Equestrian Festival in Wellington, Fla.
"It's nice to break the ice and it's a nice confidence boost for everybody involved," said Maher of his score on the gray mare he just started riding in October. "It's good to know that we're moving in the right direction. Everybody's worked so hard to get the horses fit for the circuit, and it's great that so early on we've managed to see that all the hard work has paid off." Maher took over the ride on Cella and Clark's other horses from Mario Deslauriers, and for the latter part of 2011 commuted from his home in England to ride them at Clark's Florida farm.
See Maher chat about Cella and the class...
Former U.S. Chef d'Equipe George Morris gave Maher pointers on adjusting to Cella's ride. "George told me to sit still and stay off her back; more of an American style," Maher stated. "I said that I was European and he said 'I don't care.' He told me to be soft with her and that she is a great jumper and just to let her do her job. I just try to place her as correctly as I can. The small pointers we had from George yesterday made a big difference with my style of riding. It has taken her a while to adapt to me, I think as much as I had to adapt to her."
Also in the fourth week of WEF (see results), Charlie Jacobs topped the $33,000 Ruby et Violette WEF Challenge Cup Round 4 on Flaming Star (see results) and Alise Oken won the $25,000 Suncast 1.50-meter Jumper Classic (see results) on her new ride Teirra, who she bought late last year from trainer Laura Kraut. And while Reed Kessler might be the family member getting all the press after her Olympic team appearance last year, her parents are also in on the winnning action. Her mother, Teri, claimed the low amateur-owner jumper championship on Ice d'Ancoeur while her father, Murray, was the masters jumper champion on All That.
During the last week of the Jacksonville (Fla.) circuit (see results), derby specialists descended; Jersey Boy and Jennifer Alfano topped the $25,000 USHJA International Hunter Derby over Liza Boyd on Brunello and Kelley Farmer on Mythical. Canadian Hugh Graham won the $25,000 Clay County Grand Prix on Distant Star 3E, defeating Chuck Waters on No Doubt.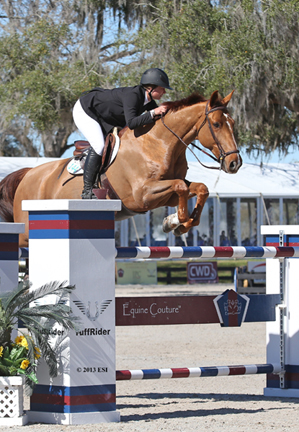 Lisa Goldman scored two
grand prix wins with
Centurion B at the HITS
Ocala Premiere.
Photo by ESI Photography
Grand prix riders at the HITS Ocala venue (see results) seem to be on quite a roll; for the first three weeks of the circuit, the winner of the Thursday grand prix has gone on to win the Sunday class as well. In Week 1 it was Aaron Vale, last week it was Tracy Fenney, and this week Lisa Goldman scored the big double. Goldman rode her mother Mary's Centurion B to the top of both the $25,000 SmartPak Grand Prix and the $50,000 HITS Grand Prix.
Melissa Rudershausen hit a big double of her own in Ocala, winning the high and low junior/amateur-owner jumper classics on her Gunner and Ducati.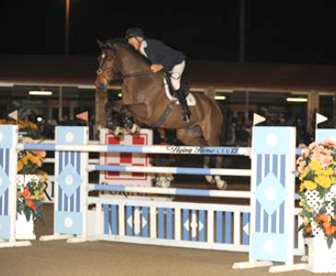 Rusty Stewart rode his homebred
Bristol to the top of the first West-
Coast World Cup qualifier of the year,
the $54,500 Strongid C 2X Grand
Prix. Photo by Flying Horse Photography
On the other coast, Rusty Stewart claimed the $54,500 Strongid C 2X Grand Prix during week 2 of HITS Thermal (see results). He rode the homebred Bristol that he and wife Kandi bred at their Grey Fox Farm to a jump-off more than 2 seconds faster than the only other rider in the jump-off, Lucy Davis. This class was a World Cup-qualifier, and one of the most applauded entrants was the 2012 Rolex FEI World Cup Final winners Flexible and Rich Fellers, stretching their grand prix legs for the first time since October. They finished 12th. In Thermal's Thursday grand prix, Francie Steinwedell-Carvin rode to the top of the $33,000 HITS Desert Classic on Lapsus du Lavoir.